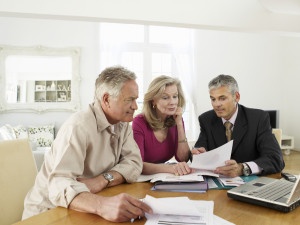 Once you decide to get the financial help that you need, your work is just starting. It can be really hard to find the right financial planner since there are so many willing to help you with your money. However, it is worth it to find the right planner. You will be glad that you took the extra time and found the right financial planner for you.
Choosing a financial planner is really important for the following reasons.
You need to trust your financial planner. They are going to be helping you invest your money and get you set up for retirement. They may even help you get out of debt if you are struggling so it is really important that you trust the person who you choose.
Your financial planner has to listen to you. Everyone is different when it comes to how they choose to invest and spend their money. Some people are willing to risk their money to make a profit while others prefer to invest their money wisely, even if they only make a little bit of money. It is important that your planner listens to you and helps you invest your money the way that you are comfortable doing so.
It is important to have a financial planner who is able to help you long-term and wants to build a relationship with you. Unfortunately, managing money is not a once and done thing. Things happen in life and you may start making more money. You may also lose your job and need to re-budget correctly. The stock market changes rapidly so you need someone who is willing to monitor your investments and talk to you about making any changes that are necessary.
Your financial planner should be patient. Most people are not very smart about their money. They need a lot of help and guidance to make good financial decisions. A good financial planner will be patient and help you understand why they are making certain recommendations. Maybe they will give you several options and discuss the benefits and disadvantages of each.
It is also important that your financial planner is not in it for the money. There are many financial planners who will push you to invest in certain places because it will help them to make more money, even if you are uncomfortable doing so.
You and your financial planner need to have the same goals. What are your goals for getting an advisor? Some people just want to make sure that they can retire. Some need help getting out of debt so that they can even think about retirement. Some just want to invest their money more wisely. You need to make sure that your planner will help you with what you need in terms of your money.
Finding the right financial planner is worth it. You need to know that you can trust the person who is handling your money. You should also pick someone who is going to listen to you so that you are comfortable with the way that you are spending and investing your money.
Good financial planners are also not in it to get rich. They are fiduciaries and they look out for your best interests instead of their own. You also should find a planner who charges you a flat fee instead of someone who makes a commission off of you. They will be more likely to push you into riskier investments, just to make some extra money.
Contact us for all your financial needs. We will help to ensure that you are going to be able to retire the way that you want, when you want.