Although it may seem a bit early to think about retirement, people in their forties should already have a plan in place. But don't let that discourage you if you don't—there is still time to build wealth in your 40s. Social security benefits are not enough to support you, so formulating a plan early will save you from working longer than you want. Our advisors have put together their top recommendations for financial planning in your 40s.
How Do I Get Ahead Financially In My 40s?
It may seem overwhelming if you are just getting started, but there are easy ways to get started financial planning in your 40s.
Pay Off Debt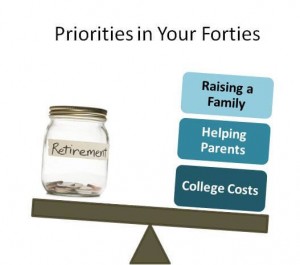 The best strategy for saving for retirement is to eliminate debt to increase your disposable income. Paying off high-interest rate credit cards is a great place to begin. You probably know how expensive this type of credit is in the long run. The snowball method of reducing debt will help you to see the debt reduce quickly. It works by paying off your smallest debt first and then applying that payment to the next highest debt. For example:
Kendra and Mike have the following credit cards:
Visa $325
Mastercard $500
Belk $1,500
Kohls $2,500
Amazon $5,100
They will start by paying off the Visa balance of $325. Then, they will take the minimum payment amount from the Visa they paid off and add it to the Mastercard payment. Once the Mastercard is at a zero balance, they will apply the minimum payment amount from both the Visa and the Mastercard to the Belk payment. They will keep snowballing payments until everything zeroed out. After that, they can start working on their much higher car balances.
Saving and Investing
Shoot for building a savings account of at least one month's salary. This will ensure that you are ready for an emergency. Once you have established this, continue to add to this account regularly.
Most companies offer a 401(k) plan of some type. This is one of the best ways to build wealth as the money gets automatically removed from your paycheck. In some cases, the contribution is matched up to a certain amount by the company. You get to choose where the money gets invested. Be forewarned, though, because, with stock market dives, you can lose money—investing is a long term game.
You can also opt for an IRA. This is generally a safer investment and is an excellent addition to a 401(k).
Other Streams of Income
There are so many opportunities today to make a hobby into a small business. Maybe you have a talent for making creative gifts and can start an Etsy store. Or perhaps you have always enjoyed woodworking—people love handmade items. If that isn't your thing, that tax return you do for yourself, your mom, your sister, and your neighbor could be extra income. Whatever you are good at, it may pay off in the long run.
Real Estate Investments
Another way to find extra income is to purchase another home and use it as a rental income or fix it up and flip it. Do your homework on the location, housing market pricing, availability, and have the home inspected by a professional to check for repairs and upgrades. If you make a wise investment, this will provide extra income.
529 Plan
If you have children, a 529 plan is a brilliant way to save for college tuition. Do have a conversation with your kids to let them know that you are preparing but that they need to do their part as well. Performing well in school will reap scholarships and grants that make paying for school more manageable.
Maximize Pre-Tax Dollars
Maximize your tax benefits by paying for health insurance, health savings, and flexible spending accounts with pre-tax dollars. This, together with your pre-tax 401(k) contributions, can cut down on the amount of taxes you are paying on your income. Also, make sure you are claiming all deductions and credits available.
Chandler & Knowles, CPAs are ready to aid you in understanding how to build wealth in your 40s. It can be confusing, and our expert financial advisors want to see you succeed. Contact us today to get started.
Related Posts:
Finding the Right Financial Planner