By the time you get to your 30s, you should have established yourself in your career. You may be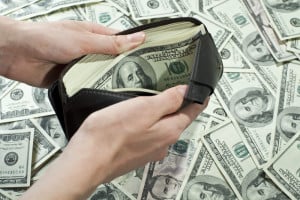 married and may even be a parent. You have a lot of demands on your money. In spite of those demands, you can still build your wealth in your 30s. By following some or all of these suggestions you can help to guarantee that you will be well established financially to go into your 40s and beyond.
1.Take advantage of employer retirement contributions
The benchmark for savings for retirement in your 30s is 15 percent. You can save this in a variety of ways, with an employer-sponsored 401(k) or 403(b) or with your own Roth IRA or Roth 401(k). If your employer matches a percentage of your contribution, you should maximize the amount that is eligible for matching contribution. If your employer gives a 4 percent match, this means that you can contribute 11 percent personally and still reach the target of 15 percent.
A Roth IRA allows you to pay the tax on your retirement savings now, which can benefit you when you reach retirement and want to withdraw some or all of these savings. However, depending on what your current tax rate it, the ability to defer the taxes can make more financial sense.
2. Watch your credit score
Your credit score affects many areas of your life, it can affect your insurance rates, your ability to get a good mortgage rate and can even affect your ability to get a job. With all the credit monitoring services available, there is no excuse for not keeping a very close eye on your figures and making any adjustments that need to be made. You can dispute any errors and even more importantly, be aware of anyone trying to steal your identity.
3. Diversify your investments
Your 30s are a time to be a little more aggressive in your investments. You are still many years away from wanting to use these investments to support your retirement lifestyle. However, you want to have many different types of investments. The stock market is a long term investment and with 30 more years to grow your wealth, you can afford to take on a little bit of risk.
4. Lose the debt
In your 20s you may have lived a carefree life but as you move into and through your 30s. you need to get rid of any credit card or high-interest debt. Chances are you will have a mortgage and this is good debt. Using zero-interest balance transfer offers can help you to bring your credit card debt under control but keep in mind that if you don't avoid carrying a balance on your credit cards you will soon be back into unnecessary debt.
Your 30s are probably one of the best decades of your life. It will help to set you on a firm foundation for decades to come. By following these simple financial planning strategies you can help to not only grow your wealth but get your financial life on an even keel.
Related Posts