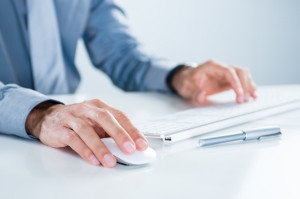 These days, a simple Google search will yield answers to just about any question you could possibly have. The same applies to your finances. Not sure whether a 401K or IRA is your better option? Want to know whether or not you qualify for a specific tax deduction? You can find a plethora of information online that may help you answer those questions. Unfortunately, however, you can't always trust that the financial information and advice you find online is 100% accurate or reliable--and for a number of reasons.
Website Content Becomes Outdated
While a website might contain some well researched content on an important financial topic, there isn't always a guarantee that the information is current. If you're unable to find a "published" date on the blog post or article you're reading, it's important to take the information with a grain of salt, as it may have been written months or even years ago, and the content may no longer be completely accurate.
Finding timely information on different financial topics isn't always easy, especially considering how often regulations and laws on taxes, retirement, business finances, payroll, and other financial topics change. While it's not necessarily a bad idea to read through an online article or blog post on a specific financial question you have, you should never make the assumption that the information you're getting is up-to-date. Instead, take some time to do further research and check out government websites for updated information on specific laws, codes, or regulations to be sure.
Financial Articles and Blog Posts Are "Hired Out"
Another reason you should take online financial advice with a grain of salt is that these articles, blog posts, and other forms of content aren't always written by financial advisors or other professionals themselves. Often times, these assignments are hired out to freelance writers and other independent contractors. This isn't to say the content isn't accurate or well researched, as many financial advisors will carefully review and edit content before they publish it to their own web page. However, the information should be taken with a grain of salt since it may not be coming directly from a financial expert.
Benefits of Consulting With a Professional Financial Advisor
While there are plenty of great resources for free financial advice online, the hands-down best way to get quality advice and guidance is to meet with a financial advisor. This will give you the added peace of mind in knowing that the information you're receiving is not only well informed, but current as well. A big part of a financial advisor's job is to stay up-to-date on all changes in the industry so they can always provide the best advice to their clients, after all.
Furthermore, meeting with a financial advisor allows you to receive guidance that is 100% tailored to your specific situation. Online financial advice has a tendency to be very generalized, so it may not completely apply to your situation and could actually work to your detriment. And of course, when you work directly with a financial advisor, you can enjoy the face-to-face dialogue that allows you to get real-time answers to any questions or concerns you may have.
You may be surprised at just how affordable it can be to have your own financial advisor. Whether you're looking for assistance with business consulting, accounting, risk assessment, tax preparation, or anything in between, our team at Chandler & Knowles CPAs is here to help. Feel free to contact us today to find out more about our specific services and how our experienced, knowledgeable team can help you improve your overall financial outlook.