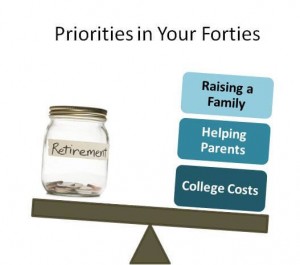 If you are in your forties, there are many challenges in front of you. Not only are you saving for your retirement, but it is also important that you are saving for your kids' colleges. You are probably also looking to pay off debts or save for larger purchases.
Luckily, there are several things that you can do when financial planning for your future. Here are six tips that will help you to get started in the right direction:
Build up your cash. It is always best to have a minimum of three to six months of cash in reserves in the case of an emergency.
Pay off debt. Getting rid of debt is a great way to free up funds for additional savings.
Take advantage of employee benefits. Make sure that you are completely maxing out on all your employee benefits at your job.
Have a plan. It is extremely difficult to plan for retirement when you are not certain what that retirement should look like.
Save for college. Your kids will be off to college before you know it. Start saving for this expense now rather than later.
Insure the family. Although it isn't fun to think about disasters, it is important to have preparations in place in case something does happen.
Planning for your future is an important thing to do at any age. However, as you are approaching your empty-nest days, it is absolutely critical. This will help you to be better prepared for a time when you can truly maximize your retirement savings.
For more information about how to plan for your financial future, be sure to contact us today.