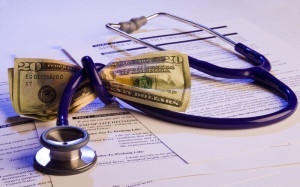 Walking the tightrope of financial planning is especially hard for physicians these days. Paying back huge amounts of debt, saving for retirement, sometimes managing their own practice, and understanding their tax liability – all combine to put extra stress on physicians. Let's explore these factors further to understand why financial planning for physicians requires special consideration.
Debt from Medical School
Forget about the debt incurred from personal and business finances, and just consider the median debt from a graduate of medical school. According to an article found on Bloomberg.com: "The median education debt for 2012 medical-school graduates was $170,000 including loans taken out for undergraduate studies and excluding interest."
This is a telling figure, especially considering this is excluding interest. Physicians right out of the gate, have special considerations to make around their financial planning – more so than other workers and professionals do. Especially considering they're starting their careers later in life, due to the longevity of medical school.
Physicians Aren't Business Managers
Let's be realistic here, physicians haven't trained for over a decade to be financial planners, although they're likely above average concerning intelligence. Just because they're skilled with medicine and helping people, doesn't ensure they can manage their money very well. And with all the debt from school and the expenses a practice incurs, they're basically demanded to be professional financial planners.
Even if a physician or person in the medical field is proficient in financial planning, running a private practice (or working for a hospital) is demanding and requires their full attention. Physicians simply don't have adequate time to manage and plan their finances with the expertise needed, to fully benefit from the hard-earned money they're making.
Medical Practice, Payroll, Taxes, and Retirement...
Physicians working for hospitals and medical establishments work very hard, and will likely struggle to adequately manage their finances for optimal benefit. Yet, for physicians starting a private practice, an even greater burden is placed on their financial planning responsibilities.
Medical practices are businesses that require extra financial considerations. While physicians are putting together a mixture of in-house and outsourced financial help, organizing the entire process can become a laborious task.
Medical practices must consider insurance, billing, payment processors, taxes preparation, regulations, compliance issues, payroll, building maintenance, rent, employee benefits, and on and on...
The lead physician of the medical practice is the boss of the operation, yet spending too much time on the business aspects will take them away from what they do best. If a medical practice has any ambition to grow, this puts further stress on managing and planning the finances. While a physician may have multiple professionals helping with financial matters, the macro-management of the processes will take them away from their important medical duties.
What's the Solution?
All of these special considerations for physicians concerning financial planning, show the stress they're under, in order to have a profitable career and successful retirement. Indeed, more than any other profession, physicians are placed in a difficult situation financially. Even with the good salaries made by physicians, expert financial planning is essential for them to succeed.
The solution is to find a professional service that can macro-manage your comprehensive financial matters, and that specializes in serving physicians. Chandler & Knowles CPAs is just such a financial service, as we have experience in serving doctors and medical professionals with sound financial planning.
As experienced accountants serving doctors, we understand the special considerations discussed, and can assist physicians with: medical practice counseling, payroll administration, tax preparation, retirement planning, and more.
We can be the macro-manager physicians need to succeed in their finances, both in business and personally. If interested in learning more, please contact us today.