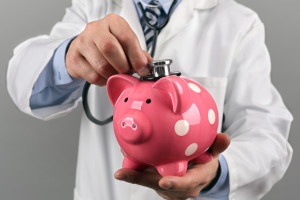 If you are one of the many doctors nearing retirement, you likely have spent your entire adult life caring for others. The question facing you now is, amid all those sleepless nights on call and days filled with acute and chronically ill patients, were you able to squeeze in time to plan for your own financial well-being in retirement?
If you have not met your own financial goals for retirement, you have lots of company. The AMA Insurance 2016 Report on U.S. Physicians' Financial Preparedness notes that "40 percent of practicing physicians consider themselves 'behind' where they'd like to be in saving for retirement."
Let's begin by identifying the financial concerns expressed by the AMA Insurance study participants:
"Having enough money to retire" topped the list in every age bracket.
Older physicians also listed long-term care, college for their children, and a solid estate plan.
Young physicians also cited medical school debt.
Those concerns all probably sound familiar. They form the framework for building financial plans geared towards a comfortable retirement.
Next, let's take a look at the key steps that helped drive financial preparedness for those still practicing physicians who say they are ahead of the financial planning curve when it comes to retirement.
One's outlook and determination
The AMA Insurance report found that "Being financially prepared is not simply a reflection of age, gender, specialty, or employment situation." That's good news: it means you can prepare at any age and in any employment situation. Even more good news is the fact that your outlook, along with your determination to take key steps, are significant factors in financial planning for a comfortable retirement.
In other words, what you want for your retirement, and how you view your readiness for retirement will drive your decision to take the necessary steps now—regardless of your age or workplace situation—to ensure a comfortable retirement later.
Taking steps in a timely manner does not come easily to many physicians too busy with balancing patient care and family life to carve out enough time to participate in strategic financial planning sessions with a certified financial planner. Nonetheless, there is no way as effective other than making time to take the right steps that you can ensure your financial readiness for retirement.
Pay off your debts and then save, save, save
The critical takeaway here is that it's never too late—or too early—to start, or add to, your savings, whether it's for your children's college or your retirement.
Start by reducing your debt load, and keeping it low. As Physician's Monthly Digest reports, doctors who feel prepared for retirement "carry less debt, particularly consumer debt (credit cards, mortgages, car loans, home equity loans)." The report notes that controlling spending "can make all the difference."
The right savings vehicles matter. Choose those that have tax benefits whenever possible.
Maximize your annual contributions to your qualified retirement accounts. As Physician's Monthly Digest suggests, by doing that you not only prepare for retirement, you also make the most of allowable tax-related benefits. Don't have a qualified retirement account? As any certified financial planner will tell you, this is a serious omission. If your employer offers one, they often match your contribution up to a certain percent of your salary (usually around 3 percent). You also can open your own Roth or other type of IRA. If you go that route, see a certified financial planner to learn which type of IRA will provide the best benefit for you.
The AMA Insurance report cites this advice: pay yourself first. If you find yourself behind in your savings, add to it before making new purchases. Look at your monthly and annual household budget to see where you can find more savings. It is well worth the work involved.
Set up an estate plan
Simply put, no retirement plan is complete without an estate plan in place.
A good estate plan will include a living trust, a will, and medical and end-of-life directives, plus a power of attorney. As Physician's Monthly Digest recommends, "Thinking about the future will inevitably make you realize that if something happens to you, you want your family to be taken care of. This is absolutely vital. The last thing you want is a court deciding your future and also how to split up your assets."
In sum, taking the right steps is key to prepare for a comfortable retirement—at any age. If you are nearing retirement now, there are steps you still can take to help improve the financial aspects of that time of your life.
An experienced financial partner can help steer you in the right direction, one tailored to your situation. Chandler & Knowles CPAs stand ready to partner with you on this journey to a stronger financial future. Please let us know how we can help today!