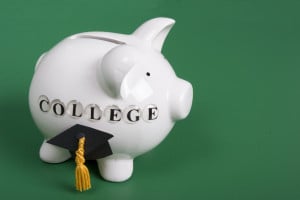 Most parents want more for their children than they had. This includes a good college education. However, as the cost of a college education continues to rise, it becomes more out of reach. For this reason, it is important to plan and save for college so that you can afford to help your children reach their goals.
Here are some tips for college planning.
Start as soon as you can. The earlier that you start, the more time that you will have to set aside money. Even a few dollars a month will grow over eighteen years. Also, if you invest it correctly, your money will have more time to work for you and grow.
Save, save, and save some more. If you have some extra unexpected cash, put it into college savings. If your child got money for his or her birthday, remind them to invest it for their future by placing it in a savings account. Each dollar adds up, especially if you invest your money correctly.
Don't do all of the work. Though parents want to help, it is not just your responsibility to pay for college. When your children get older, you can help them find jobs. They can put some of that money toward planning for college. Many children who are interested in going to college can help pay for their own education.
Look into prepaid tuition plans. You can start to make payments toward your child's education now – at today's prices instead of what they could become in a few years. Since the price is always on the rise, it would be much cheaper to try to pay today's costs instead of ten or more years from now. This type of plans only work on certain colleges and usually varies by state. You might only be able to use this money toward a college in your state.
Invest your money wisely. It is really important to invest your money so that it can grow, getting you even closer to reaching your goals to pay for college. Whether you invest it in a risky way or even just a safe one, your money will continue to grow and that can add up.
Get help. A good financial advisor will be very helpful with your money goals. They will look at where you are, where you want to be, and help you get there. They will be able to help you decide where you can cut back and how to find money to save. They are also skilled at investing money to make it work for you.
Don't expect to pay for all of it. You don't have to pay for their entire tuition. Work with your children looking for scholarships that are available. Look into loans that you may be able to get. You should never forget about financial aid that the college may provide. Take whatever help you can get to make college more affordable.
College is expensive, though it is worth it. Start as early as you can. Even a few dollars a month will add up over eighteen years. If you are able to invest it, it will be able to make money so you can watch your college savings grow. Never forget to ask for help. A financial planner will be key to make sure that you are saving all that you can and investing it wisely to get where you need to be!
Contact us for all of your financial needs. We will help you save so that you can be ready for the future, whether you are saving for college or your retirement.