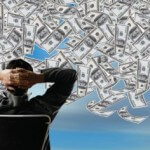 Certified public accountants are very commonly hired in a tax planning capacity. Most people do not have time to keep up with the constantly shifting field of tax law, but certified public accountants are up to date on the latest laws and regulations regarding taxes. As a result, these financial professionals can help you file your taxes in a manner that is more beneficial to your finances.
Not Only For The Individual
Certified public accountants can do wonders for your personal finances and taxes, but these professionals do more than just personal finances and taxes. Small and medium businesses should seriously look into hiring a certified public accountant. They can do the books, plan the taxes, and figure out how the best way to plan the payroll taxes. You have a lot on your plate. You do not have the time to do the accounting and tax preparation for your company as well as run it, hiring a CPA will do you wonders.
They Do More Than Just Taxes
While taxes are a big deal, a solid certified public accountant will be able to do more for you than just your books and taxes. These financial experts are also adept at providing consulting services to businesses. This includes things like financial forecasting and projecting, corporate structuring, budgeting and cash flow analysis, and management advice. These services can help you make more intelligent business decisions, and in turn, drive your profitability through the roof.
Certified public accountants excel at providing top-notch tax planning services, but they can also do so much more for you. Contact us to learn more about our tax planning services and so much more!