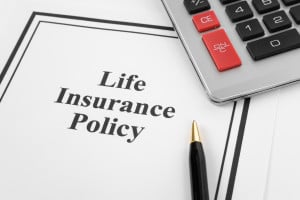 Everyone knows that life insurance is a useful estate planning tool. But did you know there is a living benefit of life insurance that can help fund your retirement? Imagine an insurance policy that not only pays a death benefit to your heirs, but can also be a source tax-advantaged income for you in retirement. The kind of policy that provides these options is a Variable Universal Life (VUL) policy. VUL is a cash-value life insurance policy that offers both a death benefit and an investment feature.
The Death Benefit
Of course, every insurance policy provides a death benefit. That's the whole point of life insurance. But, unlike term insurance which is only in force for a specified period of time (term), VUL is permanent insurance. What that means is the death benefit will be paid at some point, as long as the policy remains in force. That's why VUL minimum premiums, and those of any other permanent life insurance policy, are higher than term insurance. But a good thing about VUL is that the policy cash value can grow to a point where it becomes self-sustaining, making it unnecessary for the policy-holder to pay premiums.
All VULs require a minimum premium to keep the policy in force. The minimum premium depends on the cost of insurance, plus the insurance company sales expenses and premium taxes.
The Investment Feature
The premium dollars that remain after cost of insurance and other expenses go to the cash value of the policy. It's this money that can grow and increase the death benefit. But this growth in cash value can also provide tax-advantaged retirement options to the policyholder. Here's a brief explanation of how it works.
Sub-accounts
The funds that make up a VUL's cash value are divided into sub-accounts and invested in suitable investment vehicles. These are typically mutual funds. Some VULs offer an option to actively managed sub-accounts. The benefit of sub-accounts is that the policyholder can diversify the investments and, thereby, reduce risk.
Policy Loans
The policy loan is the tool one can use enhance their income in retirement. What the policyholder is, in essence, doing is borrowing from him or herself. The good news is, as a practical matter, you're not required to pay the money back. In this instance, the loan is repaid through a reduction in the death benefit when the insured dies.
Policy loans are not necessarily large, lump-sums. In the context of this article, policy loans are periodic (usually monthly) withdrawals designed to supplement other retirement income.
Tax Advantage
What makes this a good retirement planning tool is the fact that cash value growth and policy loan proceeds are governed by tax laws that regulate life insurance products. Capital gains and income tax do not apply.
Important Considerations
There is another type of universal life insurance where the cash value is not actually invested, but is guaranteed to grow based on a specified market index. Typically, the guaranteed rate of growth ranges from zero to 10 or 12 percent. If the index falls below zero, you don't gain or lose money. If it performs within the specified range, the cash value grows at the same rate. But if the index performs better than the specified maximum, the cash value grows at the maximum specified rate. This is Indexed Universal Life, and should not be mistaken for Variable Universal Life.
As you've seen, VUL is a good retirement planning tool. But it's important to point out that this vehicle is not for everyone, and is not a substitute for a 403(b), IRA, Roth, or other pure retirement plan. Remember, VUL is an insurance vehicle, and should be viewed and used as such. Always consult a retirement planning professional before purchasing a VUL or other insurance policy.
It's also important to understand what the primary focus of a VUL being used as a retirement tool is - the cash value. So it's best to minimize the basic death benefit (face value). By doing so, you maximize the amount of premium going to cash value.
For more help with your retirement planning, contact Chandler & Knowles CPAs today!