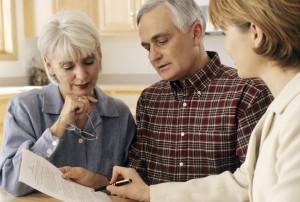 Many people who do not use a financial advisor often wonder if financial advisor costs are worth the money. Skepticism is understandable after the housing bubble burst. It seems many are leery of anyone handling their money. When you look at who is really qualified to handle finances and those who say they are qualified is what makes the difference.
What to look at in a Financial Advisor
Personal Financial Advisor is what we like to think of as the face to face financial advisor who either has his own business, part of an insurance agency or within your local bank. This advisor makes you feel comfortable and safe, but are they worth the financial advisor costs? Are they qualified to give you financial advice, or just offer programs?
The financial advisor who knocks on your door, sends and email, cold calls and other tactics of a hard-line salesman. He gives you a summary of his background and a calling card. Meet the charming salesman that is not qualified to give you sound financial advice, but more likely to show you an array of pamphlets for different financial services.
The Online Financial Advisor is the newest and easiest of financial advisors available. You get a live chat, Skype session, or email contact financial advisor. This type of advisor makes you feel even more disconnected from your money investments. You still wonder if this type of financial advisor is still worth the financial advisor costs.
Danger of Not having a Financial Advisor
The most important thing to establish if financial advisor cost is worth it is determining what you have to lose or gain. Many financial gurus are telling people financial advisor costs are a waste or precious money. Other financial experts point out that not getting a financial advisor and making simple mistakes will cost you much more than the financial advisor costs incurred by a reliable financial advisor.
The initial first meetings with a financial adviser are probably the best money spent. A great financial advisor will establish your assets and liabilities. The next step is to survey your financial habits. Setting up a financial plan for short and long-term financial goals is where a financial advisor is worth every penny. Once you learn financial responsibility, restraint, and habits your money is on the way to work for you.
What Makes a Great Financial Advisor Cost Worth it?
Establishes your long and short-term goals.
Starting small in investing builds trust and confidence.
Takes into account real estate, insurance, children, retirement and other life events.
Goes over your tax situations and create a tax plan.
Establish regular appointments to review any changes in your financial situation.
Suggests other specialized professionals when necessary, such as a specialized lawyer or tax professional.
Do Your Research
Go online and research the numbers of how much a financial advisor costs.
Check any financial advisor's portfolio and satisfaction ratings with customers.
Type of financial services your advisor provides.
The financial planner costs of each service, including commission.
What credentials does your financial planner have?
Does your financial advisor use the Lifetime Economic Acceleration Process (LEAP), which is an effective model for assessing your finances?
Your Financial Planner Costs
Remember it is your money. If you do not consult a financial planner it makes cost you much more. When you do your homework and find the right financial planner the financial advisor costs should meet your needs. To find out more about how to handle your finances, contact us to help you in your search for an advisor to serve your financial needs now and for each life event for years to come.