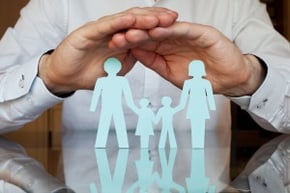 How do you know when it's the right time to open a life insurance policy?
Seems like a difficult question to answer, but in reality it's pretty simple. If you are an adult with an income, property, or debt, it's a really good idea for you to open a life insurance policy.
What type of policy is best for you?
There are many different types of life insurance policies you can open, but the most popular two are whole life insurance or term life insurance. Whole life insurance is an option that provides lifelong coverage and includes an investment component known as the "policy cash value." This means that the cash value of the policy slowly grows over time, and taxes are deferred, meaning you won't have to pay taxes on the gains while they're accumulating.
Term life insurance provides coverage for a set time period. For example, you might receive a term policy for 30 years. This means that if you die within the term, your beneficiaries receive the payout. Most of the time you can choose the term length when you buy the policy. Common term intervals range from 10, 20, or 30 years.
How much life insurance you need will depend on your life circumstances. For instance, how many unpaid bills do you have that your family would be responsible for in the event of your death? You will want to purchase an amount of life insurance that would take care of these bills—including mortgages, auto loans, and other unpaid debts. The amount you purchase should also leave enough money to cover your final expenses, such as medical bills and burial costs. A good starting point for buying life insurance is to purchase an amount that is at least 10 times your current annual income.
Benefits of Each Policy
We always recommend that our clients approach life insurance policies with a 'just in case" mentality. The last thing you want to worry about is "what will happen to my family if something happens to me." Each policy has its benefits and setbacks, so it's just a matter of shopping for the best policy for you and your needs. Some important benefits to consider include:
| | |
| --- | --- |
| Whole Life Insurance | Term Life Insurance |
| You have a fixed premium, meaning it never changes—offering more stability. The rate you pay when you open the policy is locked in and will never increase. | You can acquire the greatest death benefit for the lowest premium when the policy is first issued. |
| Acts as a savings account. A portion of this account is saved and you have access to these funds while you're still alive. These "savings" typically increase over time. | The conversion feature of renewable and convertible term allows policyholders to enjoy higher death protection than they might otherwise not be able to afford. It also allows them to lock in their premiums and build cash value |
| Whole life insurance policies are guaranteed for life. The value of the policy will not decrease or lose value regardless of your age, illnesses, or any other life events. | Various term policies can be combined with others to create a package that meets specific needs. |
There are many life insurance companies that will sell you both a whole or term life insurance policy. You want to make sure you choose a reputable insurance provider for life insurance. After all, the security of your family is too important of a matter to leave to chance. When looking for a life insurance company, there are several things you should consider, including the price (although this should not be the only consideration), ratings, financial strength of the insurance company, claims, and customer service.
When You Should Consider Getting Life Insurance
There are a number of different situations where you should seriously consider opening a life insurance policy.
If you're married. Many married couples mistakenly believe that as long as they don't have children, life insurance is an expense they can skip, but it's really not that simple. Ask yourself, if one of you died tomorrow, would the person who survives really have enough money to pay off debts like credit card balances and the mortgage? Would they be given adequate space to grieve and heal without worrying about financial obligations? Couples often split costs of everything from dinner to loan payments. So what will happen if a double income is cut in half?
If you have minor children. Whether you're a single parent or a married couple, what will happen to your children if you unexpectedly pass away? Have you been financially planning for college? Will your family be able to continue paying rent in your absence? If you're a stay at home parent, the housework and other tasks you do are highly valued. You aren't replaceable, but leaving behind some extra financial support can help your family adjust their lifestyle in the event of your absence.
If you have others who depend on you. If you are care taking for an elderly relative or a family member with a disability, a life insurance policy can give you the peace of mind that there will be continuity of care for your loved one—no matter what happens. This can also be true if you simply help contribute to your family's finances and worry if they'll be okay without you.
If you own a business

. Life insurance can help take care of your family, but it can also help protect your business. In fact, life insurance can be structured to help business partners by funding a

buy-sell agreement

that would allow the remaining partners to buy the interests of a deceased owner at a previously agreed-upon price.

Key person

insurance, payable to the company, also covers a business in the case of the loss of a key employee. The money goes to finding a replacement or otherwise make up for the loss of your valuable skills or job function.
Having a sound life insurance policy adds a sense of stability and security to what is otherwise considered a crisis for your loved ones, and it plays an important part in financial planning. Dealing with the death of a loved one is difficult enough without also having to worry about payments and arrangements that need to be made. A good policy can make that burden easier to get through.