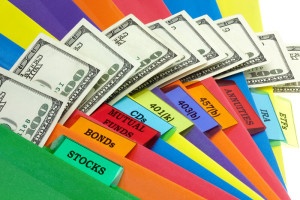 A key component of advanced tax planning is reviewing investors' liquid and non-liquid assets and providing guidance for structuring investments to achieve maximum tax efficiency within an investor's overall portfolio.
When two investment vehicles offer the same pre-tax return, the one with the best after-tax return is said to be more tax efficient. No one asset is entirely tax efficient, and every investment portfolio will be made up of both tax efficient and tax inefficient assets; it is not practical to try to hold only tax efficient assets. Certain assets such as high yield bonds, by their nature, are not tax efficient, however they are an important component in many investment portfolios.
Generally, assets can be categorized into one of these three different types of vehicles: tax exempt (such as certain municipal bonds); tax deferred (such as IRAs, 401(k)s and other retirement accounts); and taxable (such as bank accounts and individual or joint investment accounts.)
Most tax and investment professionals agree that it makes sense for investors to hold tax efficient assets in taxable accounts. Less tax efficient assets then would be owned inside of tax deferred accounts. However, this is an oversimplification and should not be used as a blanket statement for tax planning.
An investor's tax bracket and each investment's capital gains treatment need to be considered, as does the makeup of investment asset classes in the overall portfolio.
The tax planning that Chandler & Knowles CPAs offers is designed to help clients keep more of the investment earnings and potentially stay out of a higher tax bracket by reviewing clients' portfolios for maximum tax efficiency. Contact Chandler & Knowles CPAs today for more information about tax efficiency.