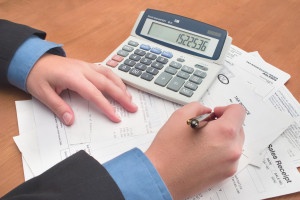 Whenever you buy an item, you pay sales tax on it. However, this gets confusing sometimes as your business encounters times when it hasn't paid sales tax when it should have done so. For this reason, your business needs these sales tax tips for its business accounting.
Businesses must pay sales tax on items they've bought out-of-state and didn't pay sales tax on. The government does this so that competition between companies is fair. It's interesting to note that this also applies to any internet purchases you've made that weren't taxed when your business bought them. Many companies feel they won't get caught, but if your company bought a large item (e.g. car, furniture, computer) there's a greater likelihood that your business will indeed get caught.
Your business must pay sales tax on any item it's given as a gift, but purchased the item without paying any sales tax. It's important to understand that this also pertains to gift certificates, IF the recipient uses the certificate to buy something that's taxable. Another commonly misunderstood fact here is that if your business bought the item online and then shipped to a state that collects sales tax, your business is also responsible for paying sales tax at this time as well.
Your business must pay sales tax on any item that employees used personally and for which the company didn't originally pay any sales tax. This is commonly called "tangible personal property," meaning these are items that you can touch or feel (e.g. furniture, business supplies, art) and that aren't attached to real property or land. The only way your company can avoid paying taxes here is if you purchased the item at resale value.
Take the time to reconcile your company's sales tax payable account with its source documents. For this you must first identify the account's balance at the start of an accounting period. Make sure you add the total amount billed to customers and subtract the total sales and user tax paid, either electronically or by check, before filing in a timely fashion. This amount needs reconciled with your company's current balance with the sales tax payable. Finish by re-classing any discount or rounding any balances to the proper general ledger account.
Learn whether your business must make pre-payments in any jurisdiction and what its liability withing these jurisdictions is. There are some prepayments that your business must make on a different filing schedule than your regular returns and sometimes this schedule requires your business make payments more than once a month. If your business must make prepayments and they're made in multiple jurisdictions, your business must manage multiple filing schedules, which means you must adjust your calendar accordingly.
When sending checks to the Department of Revenue (DOR) make sure they've cleared the bank. Although this seems unnecessary, you don't want your business to end up paying an outstanding sales tax balance because something went wrong. It's also a good idea to review your process for receiving and sorting any incoming documents. This is particularly important if you employ any part-time staff because it's easy for certain things to get overlooked due to a lack of time. E-payment and e-filing makes it easier for your business to track checks and payments instead of worrying about what's hidden in some old filing cabinet or a stack of dusty paperwork.
It's important to keep track of all these items so that you're ready when it's tax time. By taking the time to track these things now, you'll save yourself time later. If you need any help with this, contact us. We're happy to help.