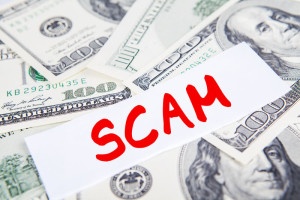 Every year, we studiously pay our taxes before the filing deadline in the middle of April. We work hard for our money and pay the necessary amount back to the government. But not everyone is so scrupulous. A new identify theft tax crime has emerged that is capturing large numbers of people. Everyone must be knowledgeable and vigilant about this crime to avoid getting ripped off and getting into hot water with the government.
The scam is pretty simple for a criminal to pull-off. Firstly, the scammer looks to buy hundreds or thousands of real social security numbers that are identified with people's name, address and place of work. Those often come from computer hacks. The hacker may have directly grabbed them when you downloaded a virus onto your computer. Or they may have stolen them from a financial institution like Bank of America or Fidelity. Any place that holds this data is a target for hackers.
The scammer can find the hacker on some websites or though criminal networks. They buy the information from the hacker and then go to work. They begin by filing many fake tax statements indicating an over-payment of income taxes. Just as many millions of people legitimately claim a tax refund, they falsely claim a tax refund. They have the check mailed to an anonymous PO Box where they can pick it up and and deposit it into a fake bank account using your name. Then the just withdraw the funds and use them for their wishes.
Unfortunately, this scam leaves the actual tax payer with the real social security number in hot water. The government will eventually determine the real situation and claim the money to be returned. Or they may even accuse you of being part of the fraud. Tax payers have to be extremely careful about this situation.
The best way to avoid being scammed is to work with a diligent financial adviser or attorney. The adviser will help you to achieve the two primary means of avoiding being scammed. The first way is to file taxes as early as possible. Once your return is submitted, the government will know that the second return is fraudulent and not place the blame on you.
The second strategy is to keep files meticulously well-organized so that you can immediately provide all of the information to the government. The adviser can independently verify that everything is correct and provide legal credibility to your claims. With a credible advisor on your side, the government is more likely to believe your claims.
More wealthy consumers are turning to one "macro-adviser" that can manage the entire process of their funds, investment, estate and tax filings. Because the number of advisors has multiplied in recent years, macro-advisers can help bridge the gap and handle the whole team so that there is only one interface with the client on all of their issues.
Chandler & Knowles CPAs is a leading advisor that helps to manage all your financial and legal advisors with the goal of increasing your cash flow and benefits over time. Our firm has helped many individuals achieve their goals while reducing the hassle and expense of so many advisory parties.
Our company's unique planning process uses 5 tools to organize their assets. We start with a "game board" to help map out and understand goals. Next, our team helps to create a financial rule book to avoid the transfer of wealth problem. Third, we create a detailed virtual model to create a clear vision of the future. Fourth, we become a macro-advisor to handle all of the other advisors in the process. Last, we design the best strategies to overcome the transfer of wealth problem. Overall, this process has shown time and again to protect assets, reduce hassle, save money and better allocate resources for individuals.
For more information, please contact us.