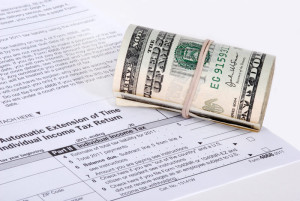 If you're having a hard time figuring out how you're going to make the tax deadline, you might want to consider filing an extension. The IRS allows citizens to file up to a 6-month extension for their taxes. Interested? Here's everything you need to know to answer the question, how do I file an extension on my taxes?

Who Can File an Extension?
The extension option isn't limited to a certain demographic, so everyone who needs an extension is eligible.
What Qualifies as a Reason for an Extension?
The IRS is also understanding about needing an extension, therefore there isn't a specific set of "accepted" reasons for needing an extension. All you need to do is make sure you fill out the proper paperwork on time, and your extension will be automatically granted from the IRS. (Note: this is for federal taxes. You will have to check with your state's laws to find out what you need to do to file for an extension at the state level).
What's the Paperwork?
There's only one form you need to fill out to file your extension: form 4868. You can fill this out electronically through a tax-filing software or by hand. Just make sure it's in the IRS's hands by the April filing deadline.
What's the Penalty?
Good news--there isn't one! At least, there isn't one as long as you actually file your taxes within that 6-month extension period. If you fail to file taxes within 6 months of getting an extension, you'll be subject to "failure to file" penalties, which can be as much as 25% of the total tax you owe.
Why Should I File for an Extension?
Those "fail to file" penalties are the same for people who fail to file their taxes by the April deadline, which is why it's a good idea to file for an extension if you are concerned that you won't be able to have your taxes done in time. It's better to take a few extra weeks (or even months) without paying the penalty than to scramble and risk missing the deadline (and paying up to 25% of what you owe extra to the IRS in penalties).
Another advantage of filing an extension on your taxes is that doing so allows you to take advantage of any retroactive changes to the tax law without needing to go through the process of filing an amendment.
Some accountants maintain that people who file extensions are less likely to get audited by the IRS, since the IRS auditors need to meet their quota by a certain deadline. The theory is that tax returns filed on time (or early) are in the system longer than those with extensions, meaning they are more likely to get reviewed and then audited.
Why You Shouldn't File an Extension
The above paragraph might lead you to believe that everyone should file an extension, but there are times when it doesn't make sense.
Filing an extension because you can't afford to pay the tax you owe isn't a good reason. Many people mistakenly think they will have an extended time period to pay their taxes when they file an extension, but this isn't true. You have the same amount of time to pay your taxes when you file an extension as you do when you file by the deadline. In addition, you might be subject to fees or added interest.
Alternatives to filing an extension when you can't pay the full tax amount include requesting a short extension for payment from the IRS (generally 60 and 120 days) or working out an installment agreement with the IRS so you don't need to pay the full amount all at once.
Contact Chandler & Knowles CPAs Today
Filing an extension shouldn't be your plan for every tax season, but it can help people who need extra time getting their files in order. If you're worried about paying your taxes, talk to an accountant to go through your options and figure out what makes the most sense for you this year. Contact Chandler & Knowles CPAs for more information.