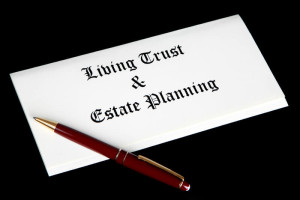 It happens more often than we think: Someone's husband or wife passes away, and the next thing you know, one of them is told that they can't get their hands on the cash in the bank because the accounts weren't set up properly. Instead, the spouse is forced to probate the estate.
This can happen if a checking account was not set up for both spouses to have joint ownership. Or, a life insurance policy is not set up to name a beneficiary. This can leave a surviving spouse confused and sometimes in a difficult financial position, which is why estate planning is key. You're never too young to initiate an estate plan. It helps to understand what probate is in order for you to understand the importance of estate planning.
Probate: What Is It? How do You Avoid It?
Probate is the legal process in which assets that were owned by a deceased individual are transferred to the estate and rightful heirs. Probate also satisfies creditors and pays taxes. Any assets owned by the decedent that were not jointly owned or have a named beneficiary must go into the estate. This means that if the cash in your checking account is the only cash your spouse has, he cannot gain access to that cash until the probate court releases it.
Which Assets Go into Probate?
Any assets that someone owns that are in his name alone go into probate. If a bank account is in the name of one spouse only, upon that spouse's death the money in the account becomes part of the estate. Essentially, the following items go into probate:
Any real estate that was owned alone or as a tenant in common must be probated.
A business owned in the individual's name becomes part of the estate.
Any non-qualified investment accounts become part of the probate process.
Alternatively, the following are non-probate assets:
Real estate owned in joint tenancy.
Assets that have a designated beneficiary that names someone other than the estate.
Bank accounts that have a "payable on death" or "transfer on death" designation.
Assets held in a trust.
Who Gets What?
After you've determined ownership of certain assets and the estate is created, the distribution of the assets begins. If the decedent had a will, the distribution follows the instructions in the will. If there was no will, the court will oversee the distribution of assets after the administrator is able to find the decedent's next-of-kin.
Why is an Estate Plan Important?
As you can see after reading the above, an estate plan helps make life a bit easier on those you leave behind. With an estate plan, it's already pre-determined what family members and friends receive certain assets. You appoint the individual you want to oversee that distribution (your executor), and appoint people to be guardians of your minor children.
Working with professionals experienced in estate planning can help ensure that all of your wishes are followed. If you currently own property individually or have a life insurance policy that has no designated beneficiary, now is the time to transfer property and name beneficiaries. And keep in mind, estate planning is not only for the wealthy. If you own any property at all, your family will benefit from any estate plan you create.
Whether you want to transfer property out of single ownership and into joint ownership, or you want more information on how to establish a trust, contact us. We will sit down with you to review your financial situation in order to properly advise you and guide you through the entire estate planning process.