Finding a business accountant can be one of the more difficult responsibilities of running a business, no matter how small or large that business is.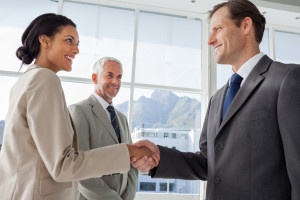 Interviewing Accountings
You have to find someone who you can confidently know has years of professional experience, great testimonials, and sound ethics and morals. And of course, you have to be able to trust them with money. So how can you know that you have found the right business accountant for your needs? In this post, we will take a look at four questions every business owner should ask an accountant before agreeing to hire them.
Have You Worked With a Business Like Mine Before? Having professional experience as an accountant or even a business account isn't the same as having professional experience doing accounting work for your kind of business. A business accountant who works with small restaurant owners will not have the same kind of experience as a business accountant who works with health care professionals (such as physical therapists, chiropractors, psychologists, and so on). Don't hesitate to inquire about the business accountant's experience and whether or not they are familiar with a business like your business.
How Will I be Able to Stay in Contact With You? If you are working with a business accountant who does not live in the same region as you do, using programs such as Skype or some other form of teleconferencing will be imperative. However, if you are working with a local business accountant, you may both agree on a more old school form of communication. But before hiring anyone, make sure that you both understand how you will stay in contact with one another. The most reputable business accountants understand the importance of open communication and impeccable customer service. Therefore, they will go to great lengths to ensure that you are able to stay in contact with them, whether that is through phone, email, teleconferencing, or in-person meetings.
Can You Tell me a Little Bit More About Your Tax Philosophy? When it comes to deductions, you want to find a business accountant with preferences and style that match your own. Will they be highly assertive when it comes to deductions? Or are they more cautious and conservative with their approach? Ask them how they plan to deduct things like travel and home office expenses. If their answers do not sit well with you, look elsewhere for an accountant. However, if you like what they have to say and agree with their philosophy and tax priorities, you will know it's a good fit.
How Will You Bill me? This is one of the most important questions to ask and something every business owner obviously wants to know before agreeing to hire any kind of independent contractor. Some accountants will bill their clients a flat rate whereas others will charge by the hour. It would help both you, the business owner, and the accountant to provide a record of your tax returns from the previous year so that they can familiarize themselves with the operations and expenses of your business and provide you with an accurate quote. It would be wise to get the quote in writing and agree upon that number before agreeing to hire that accountant.
Looking for more information or advice on how to hire the right accountant for your business accounting needs? Don't hesitate to contact us today or keep reading our other blog posts to learn more. Our team of specialized accountants is committed to helping all kinds of business reach their potential and enjoy greater success in all areas, including sales, marketing, and operations.