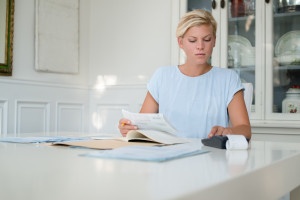 Budgeting as a young person is hard. If you're in your twenties, you're probably not used to planning a budget and saving money. However, it's important to take control of your finances right away so that you have financial stability later on. Here are a few tips to help you out.
Analyze and Budget Your Finances
It's important to know how much money is coming in, how much is going out, and what your money is being spent on. Take the time to sit down and create a list of your income and expenses. Categorize your expenses based on their category (utilities, rent, groceries, clothing, transportation, miscellaneous, etc).
Set aside a set sum of your paycheck for each category. Allow for some wiggle room, so that you don't feel too restricted. If one category is more important than another, make sure to prioritize it. If you set aside $400 a month for groceries and you know you can't exceed that limit, you'll be more careful with what you put in your shopping cart. You can also use an online budgeting tool such as Mint in order to keep track of your purchases.
Start Saving Now
Besides for your expenses, you should also set aside part of your paycheck for saving. There's more to it than just putting some money in a separate bank account.
You need to consider all the things you want to save for: Retirement (it's never too early to start saving for that), a rainy day emergency fund, money you're saving for a car or a house, and a separate saving account for paying off your debt.
A good rule to follow is the 50/30/20 rule, in which 50 percent of your income goes to necessities, 30 percent goes to lifestyle expenses that you want but aren't necessary, and 20 percent goes to saving or financial stability (such as paying off debts). Of course, this isn't an ironclad rule, and you should tweak it according to your own financial needs. It's just meant to give you an idea of how you should start budgeting.
Take Advantage of Saving Opportunities
Take advantage of deals and discounts. These days, it's not as hard to save on your shopping -- there's no need to clip dozens of coupons from newspapers and take them with you to the grocery. There are many deals you can find online, such as on Amazon or eBay. You can even do your grocery shopping online and have groceries delivered to your door, which will help you save even more.
Use coupon websites such as Groupon to help you find coupons and promo codes for your online and offline shopping. In addition, take advantage of cashback services, both credit card based and online cashback services such as Ebates.
If you're a student, there will usually be more savings opportunities for you. Ask for student deals, and take advantage of any deals your college or university have worked out with local establishments. Consider buying used textbooks from an older student instead of shelling out hundreds of dollars for new ones. In addition, take advantage of scholarships and grants. Depending on your field of research, there may be more grants available than you think.
Manage Your Credit
Avoid using plastic to pay for your expenses if you don't have money in the bank to back it up. It's all too easy to spend money on things you don't need if you get addicted to your credit card. Try paying with a cash or a debit card for all your expenses. Use a credit card sparingly and smartly so that you build a good credit score.
Confused about your finances? Contact us today so that we can work out a plan that's just for you!