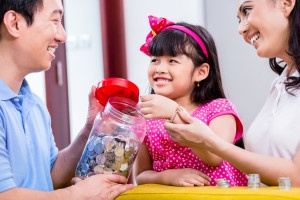 Saving for your child's future is one of the most important things a parent can do, which is why many parents consider college planning to be among their top priorities. However, it is not uncommon for parents to be unsure of how, or when, they should start saving for their child's college fund. However, making a plan for your child's educational future can go a long way in helping to set them up for success. Here are a few tips of things you should consider when college planning.
Start Saving Money Now
One of the biggest mistakes many parents make is not making a college plan soon enough. However, time can make all of the difference when saving for college. Putting aside a small amount of money each month from the time your child enters kindergarten will give you 12 years to create a substantial college fund by the time they graduate high school. Thusly, if you are considering saving for your child's future, no matter what age they are now, it is not too early to start. Sit down a make a realistic plan for how much money you believe you can set aside each month, and you will quickly find your college fund growing.
Make Wise Investments
It is not only important to save for your children's future, but to also make wise investments that ensure that you are getting the most out of your money. One mistake parents make is to only put money into low-return savings accounts. While this is the safest option, it may not be the best as there are relatively low-risk stocks and bonds you can invest in that would see a much higher return. You will also want to make sure that your accounts are not associated with too high of fees, as these fees can cut into your college fund over time.
Take Inflation into Account
When planning for your child's future, and attempting to determine how much money you should put into their college fund, it is important to take inflation into account. Parents often make a plan for how much they believe they need to set aside for their child's education based on current tuition rates. However, college costs have been ballooning in recent years with rate increases of around 5% each year. Try to account for this inflation when saving so that you will have the best chance of being prepared when your child enters college.
Try to Estimate Your EFC
Your estimated family contribution, or EFC, is the amount calculated through FAFSA that is the least the government expects you to be able to contribute toward your child's education out-of-pocket, which is used to determine your child's eligibility for state and federal financial aid programs. Determining your family's EFC will help you to be able to determine whether your family will be likely to qualify for financial aid programs, which will prevent any surprises down the road. This can give you a better idea of how much you will need to save for your child's education. Fortunately, there are online calculators that can help you to determine your family's EFC.
Consider Enlisting Professional Help
Sometimes it can feel like college planning requires a degree in finance, as many parents quickly get overwhelmed trying to make plans for their children's futures. This is where it can be extremely beneficial to consult a professional financial planner. A professional can help you to determine how much you should, and can, realistically save, and where you should put this money to get the best return on your investment. If you have been feeling overwhelmed trying to make a financial plan for your child's future, contact us to learn how we can help you with college planning.