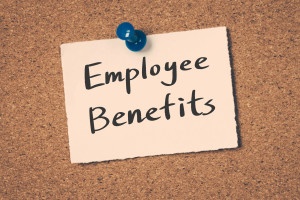 When many people hear the words "employee benefits", they only think about the employee getting all the benefits, but this is not true. Many small business owners make thedecision to not implement an employee benefits program because they believe they cannot afford it, and they also believe that they will not obtain any benefits from having their own employee benefits program.
While a small business's profit margin may see a small decrease, this will only be short-term. Many small businesses do not realize that offering great benefits to their employees can give them a significant return on investment. Offering a competitive employee benefits program can also contribute to increased productivity and plenty of success in the future.
Are you aware that employee benefits are a driving force for the following:
job satisfaction
employee retention
increased productivity
When a business can meet the needs of its employees, the employees will do everything they can to improve their productivity and their efficiency. The employees will also be more committed to their daily work assignments. Benefits will also feel as if they matter and they will feel like they add value to the workplace.
When you have the right employee benefits package for your business, they will be less likely to miss work. Your employees will also be less likely to quit or ask to be transferred. When you are making the decision to adopt your own employee benefits plan, we want you to consider the following information.
Know Who The Package Is For
Before you create an employee benefits package, you should make sure you know who will be receiving your benefits. Your benefits should be relevant to your employees and their needs. The benefits should also be relevant to the backgrounds and demographics of your employees. When you know who needs your benefits package, you will be able to create a relevant benefits package that your employees will love. If most of your employees are millennials, they may not care too much about a retirement plan.
Everyone Should Know What's Available
The point in having an employee benefits package is to get people to use them, right? In order for your employees to use them, you have to make sure they know what you are actually offering them. You should make sure you have the right advertising and marketing plans in place so all of your employees will know what's available.
Do Not Make It Hard On Them
When you make sure your employees are aware of the benefits you have to offer, you should not make it difficult for them to actually use the benefits. You do not want your employees to be afraid to use the benefits you are offering them. You should have the right people available to assist your employees when they are ready to use the benefits you are offering in your employee benefits package. Your employees should not be fearful of using the employee benefits. Make the process less frightening for them.
If you want to give yourself a competitive advantage, it is important that you set yourself apart when it comes to many things, including your employee benefits package. Do not be afraid to offer some benefits that are not your standard benefits. While you can offer things that are not typical, you should not forget to offer the basic benefits, including health insurance and vision insurance.
What type of employee benefits package are you currently offering? Do you need help creating an employee benefits package that all of your employees will love? Do not hesitate to contact us today for additional information on employee benefits and how you can create the perfect employee benefits package for your employees.