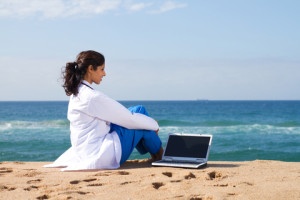 Most physicians experience it at some point in their careers. Working in medicine is no longer rewarding and they begin to wonder why they continue do the job. With several factors affecting a doctor's ability to retire, there are a few common mistakes to avoid as they near retirement.
Retiring too early
This is perhaps the biggest miscalculation in a physician's retirement plan. It seems odd, but many don't realize that when they stop practicing, they'll be left in financial straits if they haven't yet planned for this step. The fact remains that with people living longer, there are more years to cover for that income that disappears after retirement. And because doctors often start their careers later than many others due to lengthy schooling periods, they're more likely to retire too soon when they realize they're burned out.
What most physicians who have reached this stage find they need is a change in their career path rather than retirement. Perhaps working in some form of medical management rather than in the ICU, for example, will give the boost needed to find themselves enjoying their work again. Many doctors return to school to earn a degree in some other work they would enjoy, and they find it much more fulfilling than playing golf every week.
Relying on past financial patterns
A lot of physicians hear their senior partners boasting about how much their retirement plan has generated, but it's not worth betting on the same happening for them. Financial experts are predicting modest stock returns in the coming years, so any advisors showing scenarios that will give more than eight percent annual returns should be questioned. It may be tempting to turn to trading as a way of getting around those low returns, but that's not always a good idea, either.
Overspending
It's not uncommon for those working in the medical field to get a late start at saving for retirement. Those student loans won't pay themselves, after all. But even once they do start making decent income, many don't quite set enough aside because of spending impulses that had to be forced back when money was tight.
A certain level of discipline is required to figure out and set lifestyle goals and stick to them. While people in most other job sectors can get away with saving fifteen percent of each paycheck for retirement, physicians should consider adding on another ten percent or maybe even doubling the original fifteen. It's important to realize, too, that big hits to savings can come in the form of unexpected events like divorce, so don't forget to factor those into the plan.
Claiming Social Security too soon
This one kind of goes hand in hand with retiring too early. Some people assume it's a good idea to claim social security benefits as soon as possible since the program is overloaded with baby boomers and could run out of funding. But physicians need to crunch the numbers to see how waiting until retirement age - or maybe even longer - would influence those monthly benefits. For those who have invested most or all of their retirement in stocks and bonds, Social Security can be a surprisingly valuable asset.
Disregarding taxes
With the national debt increasing, most financial advisors predict a hike in tax rates in the near future and are steering their clients towards investing outside of traditional tax accounts. A Roth 401(k), if available through work, is a good way to do that. Physicians who are rolling an IRA over to a Roth account should be mindful, though. It will increase taxable income for that year and could affect other taxes.
Please contact us for more information on planning for retirement.