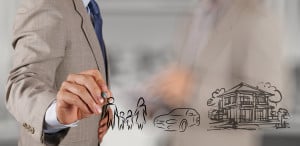 Whether you are running a small business, juggling a small family, or thinking of doing either of the two, there is a common thread that links them together. The commonality of success in any endeavor in life is financial planning. You may have a CPA who handles your taxes, an insurance agent who takes care of insurance matters, one for your will, another to manage your stock investments, and an agent for pension plans. However, with all the different agents working on your financial matters, there is no continuity or organization to your finances. Instead things can begin to feel jumbled and disjointed, resulting in lost opportunities. What you need is a system or financial planning manager that integrates all the parts together into a neatly organized whole.
The Lifetime Economic Acceleration Process (LEAP) program used by Chandler & Knowles is an innovative model that allows you to see the big picture of how your assets fit together, as well as integrates the separate entities together through macro management. Additionally, you understand what processes cause your finances to increase. Thus, you get to hold on to more of your wealth instead of watching it erode. Let's examine how the LEAP system works and how it can boost your financial planning goals.
The LEAP model utilizes five tools, which help stabilize your financial life:
1) Game board
The game board approach is a system that allows you to analyze all your assets together and see more clearly how they fit together. Additionally, your finances are categorized for greater understanding of what your vulnerabilities and opportunities are. You will more easily identify patterns of growth as well as ways to protect wealth. Your financial data is broken into three categories, which are:
Protection
Savings
Growth
2) Financial rulebook
The financial rulebook is useful booklet that will teach you how to make financial decisions. The system is constructed based on the strategic allocation model which involves these principles.
Building: This marks the beginning of wealth wherein strategies are discovered to build wealth.
Protecting: Another key factor for financial planning is protecting your wealth from potential erosion.
Enjoying: Wealth is meant to be enjoyed while one is living.
Passing on your wealth: Another aspect of careful financial planning is the ability to pass on your wealth to loved ones when you are gone.
3) Virtual model
We all make personal decisions about our assets without always knowing exactly what the outcome will be. Through a virtual model you can see how your decisions will actually affect your wealth. With today's technology we can use videos to recreate scenarios that show how your wealth would be impacted by decisions.
4) Macro manager
During your life, you may have accumulated several different managing agents to assist with financial matters. Some of these financial advisors may include bankers, real estate agents, insurance agents, attorneys, accountants, money managers, and business partners. However, with so many agents, things can easily get in disarray. A macro manager coordinates and unifies the different branches of your financial life.
5) Best money strategies
This strategy is in place to combat the transfer of wealth issue that challenges everyone. What is the transfer of wealth? The transfer of wealth problem deals with the way money is methodically transferred away from our hands to the hands of others. The question is, how does this happen and where does it go? Three entities consume our hard-earned dollars. They are:
Banks
Government
Corporations (new products, etc.)
The challenge for individuals is to enjoy and pass on wealth versus seeing it deteriorate. Chandler & Knowles is a trusted financial planning company that utilizes the LEAP model and implements the five financial management tools. They will help individuals map out a plan that leads to greater empowerment through the creation of additional wealth. This is accomplished by defining liabilities and finding strategies to decrease risk. All of this is achieved without interrupting your lifestyle. For more information about the LEAP model or financial planning, please contact us today!