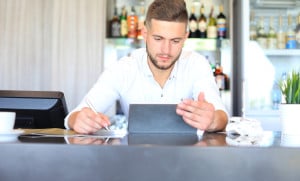 Essentially, digital marketing is an all-inclusive term for any online marketing. For a small business, things can quickly become complicated and overwhelming. You will hear and read terms like influencer outreach, organic search, IoT marketing, and retargeting. Fundamentally, digital marketing applies to any marketing and advertising distributed through digital platforms, and this will include websites, search engines, email, social media, and mobile apps. Regardless, mastering the fundamentals of digital marketing should be the focus of every business.
The typical person is spending much more time online than they did just a few short years ago. Some of this has to do with high-speed internet being cheaper and in more homes. However, the major change is the proliferation of smartphones and other internet-enabled devices. All of this has fundamentally changed the way that the typical consumer will shop and buy, making traditional marketing strategies much less effective.
With your website as the central focal point of any successful strategy, digital marketing can employ many assets, elements, and tactics to build your brand online, attract potential customers, and grow your business. Here is a very brief list of the components which a business can leverage.
Components of Digital Marketing
Your Business Website
Content and Blogs
Videos
Infographics
Online Directories
Social Networks
Earned Search
Social Proof
Logos and Other Branding Images
The challenge for a small business is breaking through all the online noise so that your digital marketing stands out. You need to become visible if you want to grow. That said, most small businesses have limited time and resources to tackle every segment of digital marketing. Which are the fundamental ones that are vital? Below is a list of the digital marketing elements that every small business should work to nurture and build.
1. Search Engine Optimization
The process of optimizing your website in order to rank better on search engine results pages is called SEO (search engine optimization). If your website is more than a few years old, there is a good chance that the SEO built into your website is no longer effective. Moreover, a higher rank often relies on having an active website with new content added regularly. If you are using your website like an online brochure, with only static, unchanging pages, it is under-performing. Consider adding a blog and publishing new content on a regular schedule.
2. Pay-Per-Click
Many small businesses are familiar with online PPC advertising. These are often the paid ads seen within search results and on social networks and other websites. The advantages of this type of online advertising is that the effectiveness is easily measurable and a small business can see the impact in real-time. Regardless, the usefulness of this type of outbound marketing has diminished over time. Online users are rejecting ad intrusiveness. Therefore, today, many marketers are using PPC to augment the inbound marketing strategy.
3. Inbound Marketing
Essentially, the idea behind inbound marketing is to capture the attention of a potential customer early in their decision-making process as possible and hold it. Over time, you will create awareness of your company, products, and services, while at the same time building trust and authority. When the time comes, your company is the obvious choice. For example, a homeowner may start "daydreaming" about a kitchen remodeling project years before actually do it. The contractor who feeds that prospect the information they are looking for will more than likely win the sale.
4. Email Marketing
Companies have long used email marketing to communicate. It is a great way to promote special offers and events, and as a distribution method for your content. Regardless, email marketing only has value if your target actually opens and reads the email. The key to success is customer segmentation and email personalization. When you break your customers into subgroups based on common interests, backgrounds, and other characteristics, you can send them the offers and information they are most interested in.
5. Social Media Marketing
If you are ignoring social media, it is guaranteed that social media is not ignoring you. Social media marketing is not just about self-promotion. Today, it is central to creating and maintaining a good reputation. In fact, it is just as important to monitor and respond to customer comments, questions, and concerns as it is to create and share content. One easily resolved customer issue can grow out of control, causing harm to your company's reputation and negatively influence the decisions of prospective customers.
What haven't we covered yet that is important to you? If you would like to talk about digital marketing fundamentals for small businesses, or a related topic, please contact us.