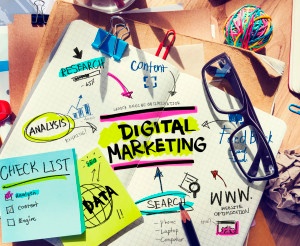 Are you a small business trying to understand digital marketing? Primarily, it is a collection of marketing methods used on the Internet, but also includes other digital advertising, such as on mobile devices. A business can use strategies and tactics that take advantage of search, social media, email, their websites, and even the geo-location of an individual to connect with and attract the attention of prospective and active customers. Since people spend so much time on their devices, traditional marketing does not have the same impact it once did.
What is sometimes confusing is that experts will use the terms like digital marketing, inbound marketing, and content marketing almost interchangeably. This is because much of digital marketing is inbound marketing, and the majority of inbound marketing is content marketing. Ultimately, digital marketing can attract an audience, build trust and reliability, improve your reputation, convert and close sales, and keep online customers engaged. Would that be of benefit in your situation?
Reasons for Digital Marketing
With all the changes in technology, small businesses are scrambling to keep up. Brick-and-mortar businesses are looking at online as a way of competing with multinationals and big-box stores. Having the ability to target their local customers is many times the difference between success and failure. Even if you are using paid online advertising, and buying a lot of website traffic, it won't amount to much if those clicks are not from the most qualified leads. The goals of digital marketing include optimizing your website for conversions, expanding your organic or natural reach, nurturing prospective customers, and becoming the obvious choice when a person is ready to buy.
Research shows that most consumers are going online to research companies, products, and services before making a decision. Digital marketing is a way of reaching those most interested in what you have to offer, even if your business is location-specific. Moreover, the proliferation of smartphones and other digital devices has changed the way people perform their research. Whether at work or at home, people will spontaneously grab their nearest device to learn about doing, locating, buying, or finding just about anything. Moreover, digital marketing holds the promise of better relationships with your audience. Ultimately, people do business with companies they know and trust.
Tactics for Small Businesses
1. Search Engine Optimization - Adapting SEO best practices, your website will rank higher on search results pages. As a result, you will see more organic (meaning free) traffic to your website.
2. Content Marketing - Blog articles, social media posts, email newsletters, and more can grow brand awareness, produce traffic growth, boost lead generation, and help maintain customer relationships.
3. Inbound Marketing - This approach using web design, social media, and online content to create a sales funnel which will guide your audience through the consumer life-cycle, from target to active customer.
4. Social Media Marketing - You can use social media to promote your business and content, and as a way of increasing brand awareness, stimulating traffic, and creating leads.
5. Pay-Per-Click (PPC) - A form of paid promotion, this will produce traffic to your website by paying a platform every time someone clicks on your ads. Common PPC includes Google AdWords and Facebook's internal advertising.
6. Email Marketing - Many companies use opt-in email marketing and e-newsletters to communicate with their audiences. This is a highly effective and targeted distribution method for promoting content, discounts, and events.
7. Mobile Optimization - The majority of internet users own at least one mobile device, and smartphones are the largest segment of search engine queries. Consequently, having a mobile-friendly website is essential for attracting and keeping an audience.
What haven't we covered yet that is important to you? If you would like to talk about how a small business can use digital marketing, or a related topic, please contact us.