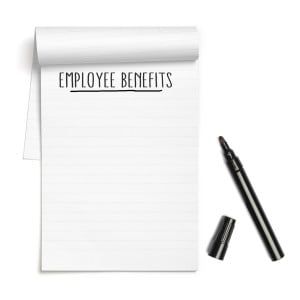 The benefits that are offered to a job candidate can ultimately be the deciding factor in whether they will accept the job position or decline the job position. Employee benefits are generally one of the biggest expenses you will have as a business owner.
You have so many things on the line as a business owner, and this is why it is so important for you to be very strategic and cautious when it is time for you to decide what type of employee benefits package you will offer. In order for you to be strategic in your employee benefits planning, you should make sure your employee benefits program will do the following:
Be a financially realistic employee benefits program
Be created around goals that are clear and concise
Be able to compete with the employee benefits package of other companies
Distinguish between benefits that are required and benefits that are not required
We want you to build an employee benefits program that will not result in you losing a substantial amount of money.
Check Your Goals
Before you take the first steps in creating your employee benefits program, you will have to know exactly what you are planning to offer and how much you will have to spend in order to offer the program. When you have goals and a budget that will go along with the goals, you will be able to realistically choose which employee benefits you will be able to offer.
When you finally decide on a budget for your employee benefits program, you will have to remember that you should only pay for what you can actually afford. Although you may not be able to compete with other companies that are bigger and have a greater budget, this does not mean that you will not have success finding qualified candidates.
Since you are a smaller business, you will be able to offer employees additional things that the bigger businesses will not be able to offer. In order for you to attract the candidates you are looking for, you have to find out what other companies are offering. This will give you a better understanding of why some job companies are making the decision to work for a particular business.
What Benefits Are Mandatory?
We know that you are already some employee benefits, especially the ones that are required. Some of the benefits that you are required to offer are listed below:
Leave of absence
Social Security benefits
It is important that you are fully aware of the benefits that you are required to offer so you can fit the dollar amounts into your budget.
What Else Will You Offer?
There are other benefits that you can include in an employee benefits package, but you are not required to do so. However, if you want to attract more talent, you should consider including various benefit options into the employee benefits program. Some of the benefits you should certainly consider include the following:
Retirement plan
Health insurance
Disability insurance
When you can create an employee benefits program, we encourage you to help your employees understand what each benefit means and how much it costs. You want your employees to understand what they are getting in each benefit. When employees have a clear understanding of the dollar amount of each benefit, they will feel like they are getting additional money that they can spend on things they actually need, such as health insurance, life insurance, retirement fund, etc.
What steps are you taking to ensure your employees have a solid employee benefits program? Contact us today for additional tips and advice on creating an employee benefits program.