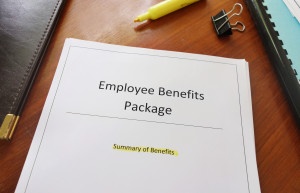 Businesses consider various things when it comes to providing employee benefits. These employee benefits will typically be managed by the employers themselves, but sometimes the employees will be asked to make copayments or pay premiums in order for them to enjoy the extra benefits and coverage.
An employer will offer various benefits to their employees for various reasons, including the following:
The benefits program will be used to attract talented job candidates
To offer multiple opportunities for employees to receive promotions
The benefits program is created to compete with the other businesses in the industry
To encourage employees to increase their productivity and their morale
There is not a one-size-fits-all program that will provide for the needs of every employee in your workforce. The best benefit program for your workforce will be a combination of multiple benefits that will be most effective in meeting all the goals and targets of the employer.
Are you preparing to offer employee benefits for the first time? If your answer is yes, we hope we can provide you with some great information. We hope you will learn some essential tips and advice that will help you decide on what type of employee benefits plan will be best for not only your entire workplace but for yourself as well.
Where Should You Start?
If you are considering introducing an employee benefits plan for the first time, we suggest that you start small first. If you are a small company, you will want to provide your employees with the common benefits. After the first year of your new employee benefits program, you will start to receive feedback and questions from your employees. Once you obtain essential pieces of information, you will be able to determine how your plan needs to be modified in order to suit the changing needs of your employees.
What Benefits Should Be Included?
There are some benefits that have to be provided because they are required by law. Three of the mandated benefits include the following: Social Security benefits, Unemployment Insurance, and Workers Compensation. Unemployment Insurance will provide assistance to the employees who lose their jobs and the Workers Compensation benefits will provide assistance to the employees who become disabled due to an injury or an illness. There are other optional benefits that you can include in your employee benefits package, including life insurance and health insurance.
When Should You Expand Your Program?
As mentioned above, after the first year of existence, your employees will likely have some feedback about your employee benefits program. At this time, you will likely be able to determine if you need to add more to your employee benefits plan. Reviewing your benefit plan and listening to feedback from your employees will certainly be better than taking benefits away from your employees and explaining to them why you have made these decisions.
This is why we suggest that you start with the basic benefits first. If you start with a larger benefits program, you will find yourself taking away benefits from your employees. If you start with the basics, you will be able to add to the benefits program as the years go by.
Are you ready to get things going with a new employee benefits program? Do you already have ideas in place for what you want to offer? Regardless of what your position is right now, you do not have to make these decisions on your own. Please do not hesitate to contact us today to discuss an employee benefits program that will not only work for your business's objectives, but for the lives of your employees.