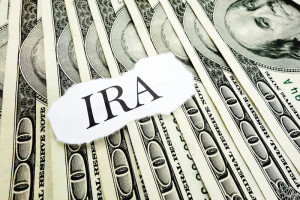 You've always considered yourself a savvy investor, particularly during your early working years when you opened a traditional IRA account as part of your financial planning strategy.
Today, after years of maxing out your IRA and 401(k) contributions you're well positioned to reach your financial goals as you near retirement. Over the years, you diligently transferred your 401(k)s into a number of rollover IRAs when you changed jobs. Eventually, you even opened a Roth IRA, so you could enjoy the benefits of tax-free withdrawals of your non-contributions.
If this scenario happens to fit your on-going financial strategy, you are probably in good stead to fund your retirement, unlike 41% of median households who "have no savings whatsoever," according to a report on 55-64 year olds conducted by the Government Accountability Office. In that age group, notes the report, the savings total "between $10,000 and $20,000."
But for workers fortunate enough to have a company 401(k), a large percentage are still not doing enough to build the savings they'll need to support their retirement goals. A report by Vanguard notes that only 10% of the 401(k)s they hold as fiduciaries are being maxed out.
Save...Save...Even If Retirement Is Imminent
Indeed, while we can all agree that we should be setting aside something early on---even if it's small amounts---few of us do so. A report by the National Institute on Retirement Security states that in cases where a household is headed by a person close to retirement the amount of savings is a paltry amount with "a median of $14,500."
As such, it behooves investors to take advantage of the powers of compounding early on...and as they are closing in their retirement date, particularly if they happened to be within a year or so of retiring. Maxing out their contributions to their 401(k), plus any forthcoming company-matching funds, may provide the added cushion needed during those Golden Years.
Can You Have a Roth IRA and a Traditional IRA?
Obviously, it's not ever easy, or possible, to reach maximum funding levels of the 401(k). That's why it makes sense to consider other retirement options, like opening a Roth IRA as well as a traditional IRA. However, having two such plans means that certain levels of income will by law prohibit investors of using those funds as a deduction on their income taxes.
"In 2016...if adjusted gross income is $61,000 - $71,000 for single and head of households…"
For married couples, once income reaches between $98,000 and $118,000, then deductible IRA contributions is phased out. Incomes below that threshold are qualified to receive the full deduction.
2016 IRA and Roth IRA Contribution Limits
Maximum funding to either of those two retirement choices remains at $5,500, or $6,500 for those over the age of 50.
For singles, or heads of households, with an adjusted gross income between $61,000 - $71,000, then your contributions to your traditional IRA will be phased out. The threshold for married couples is $98,000 to $118,000.
Income thresholds for married couples funding a Roth IRA is $184,000 - $194,000, and $117,000 to $133,000 for singles.
Tax Benefits of the Roth IRA; Combining Contributions
By law, Roth IRA holders cannot claim a tax deduction, although they can make withdrawals tax-free. It's always good to check with a tax advisor, but if you happen to be in the 25% category, it might be wise to sock money away into a traditional IRA for the tax deduction.
Keeping within the income thresholds outlined above, workers can contribute to both IRA types as long as the combined funding is not larger than the maximum allowable.
During 2016, for example, investors might put $2,000 into their Roth IRA and $3,500 to their traditional IRA, which totals $5,500---the allowed maximum.
To learn more about your retirement options, contact us.