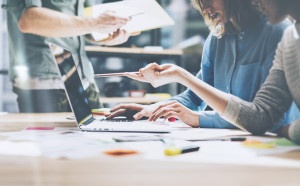 Starting a business can be both very exciting and scary. You've invested your time, money, and very being into making your business work. You've read about the number of businesses that don't make it their first year and you don't want to be a statistic. You want to ensure that your business will be a success and are doing everything in your power to make that happen. Marketing, customer acquisition, and providing the best product or service are all essential. However, what most people overlook at the start of their business is the accounting aspect. This is often pushed off to the side until later in the business when it can't be ignored any longer. However, there are some things that need to be implemented right away. When it comes to accounting and your startup, here is what you need to know.
When Does Accounting Start?
Accounting begins when you start spending money on your business.
Many business owners may be under the assumption that accounting is not something that should be worried about until you actually start selling your products or services. However, this can cost you money. Many startup costs can be tax deducted. If proper records are not kept, you can actually lose out on money during tax time. Many people are surprised at some of the things the IRS allows them to deduct. Some startup costs that can be expensed include:
Educational fees and materials
Business licenses
Postage
Promotional materials
Subscriptions
Rent
Legal and professional fees
Advertising and more
As you can see, the IRS allows you to deduct many startup costs. By knowing in advance what they are, you can better plan your expenditures and use them to your advantage. Waiting until tax time to do this, however, could cause some expenses to be missed and you can end up paying more in taxes.
Revenue and Expenses
You need to decide on a record-keeping method early in your business.
There are two different reporting methods used for recording revenue and expenses in accounting. One is the cash accounting method and the other is the accrual method. In cash accounting, revenues and expenses are recorded when they are physically received or paid for any products or services. Think of your typical hot dog stand. This is the simpler of the two methods. The accrual basis, on the other hand, recognizes revenue in the time period that it's earned, regardless of when cash is received. For example, a company that manufactures construction equipment records revenue when the equipment ships, and bills the customer later.
It's very important to decide which method your company will use. Once you decide on an accounting method, the IRS does not allow you to easily change it down the road. It's important to note that the IRS does require some businesses to use the accrual method. For example, businesses that generate sales from inventory are required to use the accrual method. Depending on the type and size of your business, you need to find out if the IRS requires you to use one method over the other.
Positive Cash Flow
Poor cash flow management kills startups.
It's true that most startups have negative cash flow balances. Money isn't coming in yet, but you are spending quite a bit on getting your business up and running. This is normal. However, just because you are not making money does not mean you shouldn't plan ahead. In fact, most startups fail due to lack of cash flow and poor cash management.
Even if you do not have anything on the books, it is a good idea to make some cash flow projections. Some costs are fixed and won't change. These include such things as your utilities, rent, and some administrative expenses. Other costs are variable, and oftentimes called selling expenses. These can be adjusted, depending on your cash flow needs. It is important to know which categories your bills fit into in order to budget and adjust your financial course, if necessary. A cash flow statement is an invaluable planning tool in order to see where your money is going, and when it is projected to come in.
Proper accounting, right from the beginning, is important for your startup. From knowing which items are deductible expenses to proper cash flow management, these are some of the things that are essential to your business succeeding. If you are stuck on any of these issues or feel overwhelmed by your accounting, do not hesitate to reach out to a CPA. As a certified accounting professional, a CPA is experienced in helping startups in the early stages of business. A CPA can help you budget for your business, save you money on taxes, and provide other services to help your business startup succeed. Feel free to contact us if you would like more information.