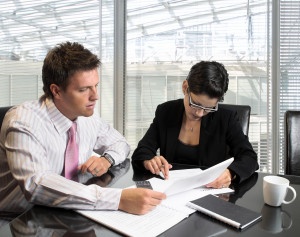 Starting with a lean methodology, startup business owners will fulfill many different roles. Their expertise will vary, yet their ability to sustain multiple roles as the business grows will become limited. With every business, the bottom line is the finances; making sure there's a profit, the taxes are paid, and the business stays in compliance – are the main objectives. In this regard, here are 3 benefits of using a CPA for business consultation.
#1. Comprehensive View of Financial Outlook:
Business consultation can come from many different sources for entrepreneurs, such as: family members, mentors, franchise resources, MLM systems, YouTube videos, friends, retirement specialist, investment brokers, formal education, etc. Whether informal or formal, learning the ropes and finding solutions for business growth and profitability are essential.
Without discounting the value of all of these sources, business consultation from a CPA service provides the most comprehensive view of a business's financial outlook. No-one understands the bottom line better than the people who manage the numbers that constitute it. Even if the CPA service isn't performing the accounting functions for a business, their eyes and minds are trained to navigate and decipher the numbers and finances of businesses.
CPA services have an expert understanding of: taxes, corporate structuring, payroll, benefits, budgeting, financial forecasting, planning, cash flow, and more. With this comprehensive understanding of business finances, CPAs are best suited to offer business consultation services. Their advice will be aligned with the specific: numbers, tax liability, insurance requirements, and other unique financial needs each business has.
#2. Expanded Services Facilitates Growth and Condenses Outsourcing:
When using a quality CPA service for business consultation, expanded financial services will be available if needed. Having an expert (who already understands the business's finances) available to facilitate important financial functions, streamlines growth and condenses outsourcing needs.
For instance, say a business is partnering with Chandler & Knowles CPAs for their cash flow and budgeting analysis service, then, after some business growth they're informed they'll benefit by restructuring. Instead of having to hire another service, Chandler & Knowles can help them select the right corporate structure and notify the IRS and state tax agency.
As businesses navigate changes in taxes and compliance, as well as facilitate growth and expansion – various financial services will be needed along the way. With the right strategy and planning, these changes can be facilitated smoothly and, ultimately, benefit the business; on the other hand, if these changes are handled incorrectly, businesses may suffer large financial set-backs.
Even if businesses don't use the CPA service for their accounting or tax preparation needs, they'll still benefit from their expert guidance and business consultation services. The CPA service will serve as their eyes and ears on their financial path, informing them of any upcoming obstacles and requirements, and advising them on vital aspects of their financial journey. If their services are needed, businesses will benefit by having a partner that's already familiar with their finances.
#3. Industry Expertise and Vertically Minded From Experience:
An experienced CPA service has expertise in many industries, giving them vertically minded insights to help each unique business. Chandler & Knowles CPAs, for instance, has been serving clients in many different industries since 1996, such as: healthcare, small businesses, real estate, and many more. Hiring a business consultation service with proven experience, gives businesses confidence and assurance in the CPA's advice and direction.
Chandler and Knowles CPAs has manifested this experience and expertise into a proven methodology called the Lifetime Economic Acceleration Process (LEAP) model, which helps organize and document our clients' financial lives. The Dynamic Wealth Builder process is another system we've created, in order to help clients make the most of their financial future.
Summary
These 3 benefits of using a CPA for business consultation are best realized with a full-service CPA service like Chandler & Knowles CPAs. While all CPAs understand the bottom-line of the business's day-to-day numbers, not all are as qualified to financially forecast with holistic expertise. Partnering with a CPA service that has comprehensive services and expertise in financial matters, brings these benefits and more.
Chandler & Knowles CPAs is located in Flower Mound, TX, yet offers accounting and consulting services nationwide with easy-to-use and secure video conferencing and document sharing software. If interested in learning more please contact us today.