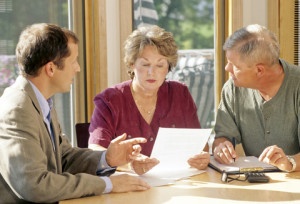 Estate planning takes a lot of time and effort, and the main objective is to try and avoid probate as much as possible. It's helpful to know that avoiding probate does not have to be difficult, and you can use simple and effective ways to ensure that most of your property passes directly to your heirs and does not have to go through the probate court process.
While it's always best to consult with experienced financial experts in estate planning procedures, here we'd like to provide you with some ways you can implement your estate plan so you can avoid probate for most, if not all, of your assets.
Pay-On-Death Accounts
You can convert your retirement and bank accounts to pay-on-death accounts. To do this, simply fill out a form that lists your designated beneficiary. When you pass away, the money will go directly to your beneficiary without the need for the account to pass through probate.
Bank accounts aren't the only assets you can do this with. You can set up a beneficiary for life insurance accounts, or you can update a property deed that allows your beneficiary to take over ownership immediately upon your passing.
Revocable Living Trust
Living trusts are a great way to avoid probate. The advantage of holding property in a trust is that after you pass away, the trust property is not part of your estate. Keep in mind that, in the eyes of estate taxes, that property is counted as part of your estate value).
While your property is in trust during your lifetime, the appointed trustee is the owner of the property. After you pass away, the trustee transfers the property to the specified individuals set to inherit the assets. You simply specify who you wish to pass the property to, much like in a will.
Joint Ownership
There are several ways to take joint ownership of property, depending on your relationship with the other owners. Those types of joint ownership include the following:
Tenancy by the entirety. Married couples often take ownership of property as tenants by the entirety, and married couples are the only people that can take title in this fashion. This means that when one owner dies, the other person automatically takes ownership
Joint tenancy. Similar to tenancy by the entirety, except the parties don't have to be married.
Tenants in Common. This is a type of ownership where each owner has an equal right invested in the property. When one of the owners passes away, the other owners don't have a right to that portion of the property. The deceased's portion automatically passes to his heirs as outlined in his will, or the ownership is transferred to his estate.
Gifting Property
You can give property away during your lifetime in order to avoid probate and the reason for this is simple: Property you don't own at the time of your death cannot go through probate. This will help lower the probate costs because most probate fees are based upon the overall value of the estate.
Small Estates
You should consider the different procedures for those that have an estate of small value. Many certain "shortcuts" are available for estates with little value so that the estate still has to be probated, but the process is much more simple and less time-consuming.
For more information on estate planning and avoiding probate, contact our experienced team today. We will take a look at your assets and review your financial picture in order to best advise you on ways to avoid probate and reduce the overall value of your estate.