One of the biggest challenges of parenthood is seeing your children grow up and become independent adults. The urge to reach out and help, to keep protecting and providing for adult children is something that almost every aging parent struggles with. When those grown children get married and start building families of their own, it's all too tempting to want to step in and lend a hand both personally and financially. But, of course, this always leads to complications.
Pride and Family
Finances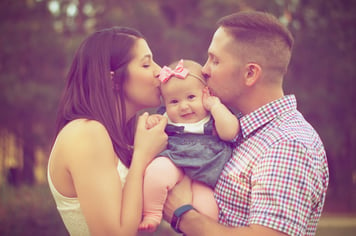 The young parents are proud of their independence and are ready to make it on their own, even if that means living in a tiny starter house and buying discount diapers. They are happy to be succeeding, building their families and careers without the help of their parents. In fact, stepping away from parental help is a major part of the young adult life stage. No parent wants to make their child feel inferior or unsuccessful by offering to help with the bills or the groceries even when just a little financial assistance would go such a long way to improving their lifestyle and the lives of any grandchildren.
Grandparents who want to help out are caught in a very awkward position. Simply giving their adult children money is uncomfortable and the young parents are likely to simply say "No thank you" from the natural desire not to take handouts. Even if they would accept a single monetary gift for a special occasion, giving enough to last the year is too much and giving smaller amounts regularly is likely trigger resistance and even emotional distance.
Annuities as Family Support
Fortunately, there's an easier way than simply trying to hand checks to proud young parents and as an annuities agent, you have the answer. In most cases, the young family could use the money and the grandparents would feel happy sharing it but emotions and personal parent-child relationships get in the way. The truth is that the more impersonal you can make these little family donations, the better. Money arriving in an account is so much easier to deal with and even say "Thank you" for than personally accepting a check. Taking money from your parent feels like being a child again, but being part of an official financial arrangement is, emotionally and financially, a much more adult and independent interaction.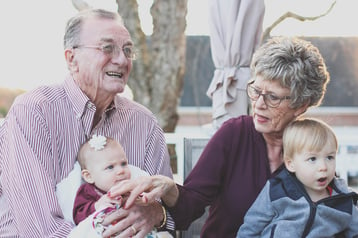 Annuities are the perfect answer to this common multi-generational challenge. Grandparents usually have the money they'd like to gift in a lump-sum savings account already which they can then transform into regular donations to their adult children and growing grandchildren without constant awkward conversations about money. All they need is an immediate fixed or variable annuity made out in the young parent's or grandchild's name.
Helping Grandparents Lend a Hand
The next time you are talking to elderly clients, you are likely to hear a number of concerns about how to turn their extra retirement savings and personal wealth to some benefit for their families. Many are thinking about inheritance, college funds, or life insurance but a family support annuity is a way they can give a gift this year that will keep on giving until their grandchildren are grown or even beyond that. The best part is that an annuity isn't a judgment on how well their adult children are doing financially, it's just a self-perpetuating gift meant to provide a little extra for the grandchildren. As the couple becomes more successful, the money that may have once paid for diapers and groceries could become the child's allowance or be put toward special activities and summer camps each year.
A family support annuity is a wonderful way for grandparents to contribute to their adult children and grandchildren without presuming, overstepping bounds, or making their children feel unsuccessful. Instead, your grandparent clients can know that every month, even if they pass away, their children and grandchildren will be just a little better taken care of. For more tips on annuities and insurance, schedule a meeting with us today!