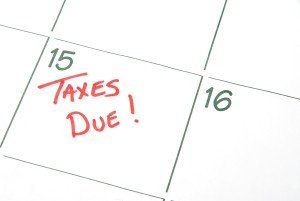 Tax season is on the horizon, and it is time to discover just how tax efficient you have been in organizing your assets and activities. Let's face it: not everyone has the soul of an accountant. Since we don't want to think about taxes until it is impossible to put it off any longer, much of the time we aren't organized when it's time to figure out the various advantages that we may have coming to us in the Spring. But it isn't too late to organize for tax year 2017. And since those horrific deadlines are approaching for 2016, now is a good time to get organized for the tax year.
Even if you haven't been efficient in your records and activity, there are still some things that you can do to make 2016 figures a bit more palatable.
According to the webpage, Examined Existence, it takes an average of 66 days to form a habit. Spend the rest of the 2016 forming a habit or two that will make the next tax year easier. This is the perfect time to start planning for next year.
Get a mileage booklet, and start writing down your odometer figures. It doesn't take any time once you are organized, and the habit has been formed. Mileage booklets are everywhere this time of year, and they make great stocking stuffers for weary dads and moms who are overwhelmed with things like expense accounts and reimbursements. This is essential for a business owner, or a reimbursed employee, but it can help with other Schedule A items, too. How many times have you wondered exactly how far it is to Little League practice and back? Exactly what are your medical miles? There are various work-arounds for this information; some of them are acceptable, and some of them aren't. Even with a logical estimate of work miles, questions can be raised, but the IRS loves a personal diary kept on a daily basis, because it answers the most logical question, "How do you know this is correct?"
Have an envelope ready in your car for receipts. Throw all receipts in that envelope. Put it next to your mileage booklet. You might want to refine this part of your system by having an envelope for work or business-related things, and another for personal items, but let's keep it simple. There is no limit to how often you need a receipt, and you simply don't know where it is. Now, you do.
Have another envelope ready in your house for receipts for items that you buy online. If you aren't the type that prints out receipts, then make a folder in your email system for receipts. Again, if you have a lot of work-related expenditures, you might want to differentiate between work and personal. If you have medical problems, you may want a medical receipt folder. But, again, keep it simple. If you have one folder for receipts, then when it comes to tax time, it is a lot easier to sort out the business/medical/personal receipts from one folder than it is to try to remember if you filed it under your doctor's name, your drug store's name, or just left it in the inbox where you can try to remember the date.
If you give something to charity, then get the signed receipt. You can put it with the rest of your receipts in the glove box or the console of the car, but make a note of what you have given, and keep the dated, signed piece of paper. Charitable giving can add up, especially if you are moving, or renovating a room. The irritating thing is that these are the times when we tend to be rushed, and hurried, and lose things because our routine is compromised. That is when habits regarding receipts come in handy. Where is my receipt (for the pitcher's glove, the Latanoprost, the picture frame for the school play, the drywall for the kitchen remodel, the gas I bought for the convention in Las Vegas)? It is either in the glove box or the receipt folder. Remember, sales tax on everything you buy is deductible in certain circumstances, so save them all. Yes, you will spend some time sorting them out, but it won't be a frantic search, it will be a calm and orderly process that will reward you with the biggest possible deduction.
Begin NOW. When you stop reading this, get in the car. Clean out the glove box; put the maps somewhere else if you have a lot of them. Drive to the nearest office supply store, and buy two mileage books (one for each year; you can cross out the 2017 for the one for the rest of this year, if you are reading this in 2016.) Buy a set of envelopes that will fit neatly in your glove box or console. Buy a pen with a reliable clip that will fit nicely onto the mileage book. Buy a special case for your car registration and insurance so that they are easily recognizable. And when you leave the store, write down the odometer reading next to today's date, and remember to write down the ending reading when you get home. Put "x 2" next to the entry so that you get the round trip. Leave the mileage book on the passenger seat so that you remember to record the readings when you get in the car. (If you have a smartphone to do this for you, that's great, but do you utilize this feature?) Also, while you are in the car, take a one-time picture of the odometer reading. The picture will have the date on it, and then you will have the information that you need for depreciation and business expense. Send it to your computer, and file it under receipts.
One more thing, make a New Year's resolution—After you have sung "Auld Lang Syne" and kissed your true love, run out to the car and write down the mileage. (Just kidding.)
For further discussion on tax efficiency, contact us.