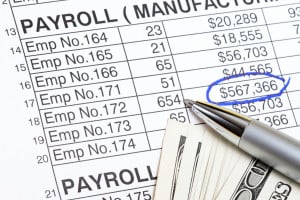 Many small business owners handle their own payroll functions because they feel that outsourcing them isn't necessary. Even if you are currently taking care of payroll yourself, there may be times when outsourcing would be a better option. When are payroll services for small businesses needed? Here are four instances in which you should consider handing these business accounting functions over to us.
#1. When there have been significant tax changes affecting your industry
The tax code is 187 times larger than it was in 1913, and continues to grow every year. If recent changes to the tax code have targeted your industry, your payroll functions could also be affected. The problem becomes even more significant when you operate in more than one state or jurisdiction, as you are then subject to changes in state and local tax codes as well. Becoming familiar with all the tax changes is maddening, and is something you won't have to worry about when you allow us to provide payroll services for you.
#2. When you are concerned about a security breach
Security breaches are becoming more and more common; however, many small businesses lack the resources to effectively protect their data. You could wind up being liable if sensitive information falls into the wrong hands, and may therefore wish to consider outsourcing your payroll if your infrastructure is not as up-to-date as you would like it to be. Our firm takes data security very seriously, which is why we safeguard your information as carefully as if it were our own.
#3. After experiencing significant growth
Handling payroll for only a few employees is much different than taking care of it for several workers. As such, you may notice that the way you do things no longer works if you have recently experienced significant growth. This is especially true if you now have more than 50 full-time employees, as ensuring you comply with requirements contained in the Affordable Care Act (ACA) can be frustrating. Here at Chandler & Knowles, we work with businesses of all sizes, and can ensure a seamless transition during periods of significant growth.
#4. When it becomes necessary to cut costs
Is your company needing to cut costs in order to keep your doors open? If so, one of the best ways to cut costs is by streamlining operations through outsourcing payroll and other accounting-related services to us. Doing so is more affordable than you might think, as outsourced payroll is typically far less expensive than performing it in-house. Not only that, but outsourced payroll can help you avoid some of the fines and penalties an estimated 40 percent of all small business owners wind up paying the IRS each year.
#5. When you don't seem to have enough time to complete payroll
As a business owner, there are always plenty of things that require your attention. During your busy workday, it can be easy to forget about taking care of your payroll and put it off until the last minute. If you are regularly pulling an "all-nighter" in order to complete your payroll, or worse yet, paying your employees late, this is a sign you definitely need some assistance. Allow us to handle payroll for you so you can focus on the things that matter most to your business.
Outsourcing your payroll can save your business a great deal of time, and is actually more affordable than you might think. It will also keep you out of hot water with tax authorities and keep your employees happy by ensuring prompt, accurate paychecks. To find out more about the payroll services we offer for small business owners just like you, please feel free to contact us.