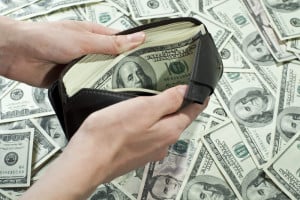 Receiving a tax refund might feel like a free gift, but treating it like one is not the best plan for everyone. Once good financial habits are established, with contingency savings and the beginning of retirement or children's college funds in the works, it may be a fine idea to consider using the extra chunk of change toward a new handbag, weekend getaway or dinner at the new bistro down the road. If you have not yet reached that point of relative financial stability, a wiser choice may be to speak with a financial planning expert about putting the cash towards achieving one of your more serious financial goals.
Regardless of how you allocate the money from your tax return, there are two important things to consider. First, stop yourself from spending any of the money until you have decided how it will be spent. Taking the time to make a conscious decision about where you want the mini-windfall to go will make it more likely that you will make a wise choice that you will not end up regretting down the road. Second, make a commitment to put all of the cash toward one financial goal. Splitting the money up into different areas of need may seem like a way to attack multiple areas of your financial life simultaneously, but paying the entire chunk of change to one debt or goal will make an impact that you will actually feel, and can put you on the path to eliminating at least one financial obstacle for good.
Still find yourself wondering, "I've got a tax refund...Now what?" Consider the suggestions below from the experts at The Fiscal Times for 4 ways to get the most mileage out of your money. The appropriate decision for one person may not be the best spending plan for another, so be sure to speak with a financial planning expert about how and where to direct your funds.
Make an Extra Mortgage Payment:
If you have a mortgage then making an extra payment toward the principal is a great way to not only have your home paid off sooner but also to lower the total amount of interest that you will pay in the long run. If you choose to do this it is important to remember two things. First, you must let your lender know that you want the extra money to go towards your principal specifically. Second, make sure that your lender does not attach any penalties to loans that are paid off early. Many do not, but some do, so it is safer to ask beforehand.
Pay Down Debt:
If you hold debt other than your mortgage, such as credit cards or a car payment, you may want to consider paying it down as a priority over making an extra mortgage payment. The longer it takes you to pay off a debt the more money you will spend on interest in the long run. Eliminating as many consumer debts as possible will free up the money that you normally have to use to make payments each month, so spending your tax return in this way will be a gift that keeps on giving in the form of extra money in your pocket now and in the future.
Save for Retirement:
Financial experts each have different suggestions about the amount of money that should be saved for retirement from each paycheck, but they are all in agreement that something should be saved, especially if consumer debts are under control. The closer you are to retirement the more you should be putting away, and putting your tax refund toward your retirement account can be a great annual boost, especially if you are not able to contribute as much as you would like throughout the year. Employer-sponsored accounts, IRAs and Health Savings Accounts may all be good options to consider for long-term financial preparation. Speaking with a financial adviser can be a great way to get headed in the right direction, as different accounts have different annual limits depending on your age and other factors.
Prepare for Emergencies:
Avoiding debt is one the best steps that you can take toward better financial health, but without a backup plan for unexpected financial emergencies, the cycle of paying off and then accruing more debt may be endless. Using your tax refund to start, or add to, an emergency fund means that the next car repair, emergency root canal or burst pipe will not set you back two steps financially for every one that you take forward. Financial experts recommend setting aside anywhere from 3-6 months of expenses depending upon factors such as whether you are a one or a two income household.
By planning ahead and choosing a worthwhile financial goal to achieve with your tax refund you can turn one lump sum into a significant step toward greater financial freedom. To talk about how planning the best route toward a financially healthy future, please contact us. Thank you.