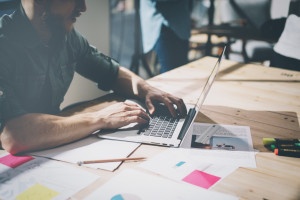 If you are like the overwhelming majority of entrepreneurs, you might not have a cushy amount of startup capital with which you can spend to launch your business. And if this is the case, it is understandable that you would be looking for different ways to cut down on the costs of marketing your brand new business. The good news is that there are not only plenty of affordable ways to build a successful, effective marketing strategy, there are many things you can do without spending a penny. In this post, we will take a look at three business startup marketing tactics to try when you are first launching your business.
Take Advantage of Word-of-Mouth Marketing: Never underestimate the value and power of word-of-mouth. You could spend thousands of dollars on glossy billboard advertisements or social media ad campaigns and they still wouldn't have the same effect as the person who spoke highly of your business to a friend of theirs and that friend decide to go to you for a service or product because they heard good things. You can ask your friends and family to do you a favor by referring people in their social circle to you and it won't cost you anything. You can also take to social media platforms and ask your online friends to share links to your official Facebook page on their own profiles. Just by simply asking people in your life to share information about your business with their friends and family you are drastically increasing your chances of attracting new clientele and you won't have to pay anything to do it.
Get Out There And Get Networking: Sure, we live in a time when a huge portion of effective marketing can be done without leaving the comfort of your home or getting out from behind your desk. But that doesn't mean that "old school" marketing tactics should be thrown to the wayside; they are still just as important as ever. Don't neglect your responsibility and huge potential opportunities by never planning to do some networking. Attend networking mixers, show up at community events, and align yourself with people in similar industries. Get your name out there, connect face-to-face, and allow people to see the entrepreneur responsible for the new business. Meeting with people in-person is one of the greatest ways to give them an accurate sense of who you are. And with accuracy comes the potential for trust and strong relationship building. Both of these things are necessary in order to secure clientele and build a reputable brand.
Pump Out Some Incredible Content: You won't see content dying anytime soon. Whether it comes in the form of a blog post or a live stream video on Facebook, your target audience undoubtedly consists of people who want to be both entertained and informed by the content you produce. Although you have to put in time ad effort to incorporate content into your marketing strategy, you could reach many more people without spending any money. Just set aside time each week to write a new, relevant blog post or create a short video pertaining to the latest news that your business has to share. The key to a creating an outstanding content marketing strategy is having a consistent schedule, so it is important to determine when you will share content and commit to those times.
Looking for more advice on how to market your startup business without going over budget? Or do you need help with other aspects of your business finances? Don't hesitate to contact us today with any questions that you may have!