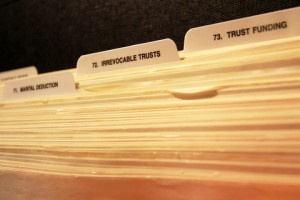 Setting up a trust is part of a person's estate planning strategy. Their purpose is to smoothly hand over one's estate to the chosen beneficiaries in a set manner. Within this purpose is the desire, of course, to limit the tax liability and maximize the investment's return. In regards to understanding how to accomplish this, let's discuss what an irrevocable trust is and the benefits of having one.
Estate:
A person's estate is defined as their net worth at any one time. This includes property, investments, legal rights, vehicles, and any tangible items a person owns – minus any liability owed. This estate is what's distributed to family members, friends, or organizations.
Estate Planning:
Planning for the distribution of your estate when you pass away, or for a situation where you're incapable to manage your estate, is essentially what estate planning is.
Finding an expert financial advisor with experience in estate planning, is essential for the best results. They can help you understand the different options available and what they offer, while also facilitating the execution of the processes and distribution of the estate.
Trusts:
Setting up a trust is how you can manage how, when, and to whom your estate will be distributed to when the time comes. The financial advisor you've chosen to become the trustee of your trust, manages it according to the goals you've set and then distributes it as planned.
There are revocable trusts and irrevocable trusts you can set up, as part of your overall estate planning strategy. The difference has to do with ownership and tax liability. An irrevocable trust is where the grantor (the person who puts the assets into the trust and sets it up) gives up all their rights of ownership to the assets and trust.
The only way this irrevocable trust can then be modified or terminated, is by the permission of the beneficiary. On the other hand, a revocable trust can be modified or terminated by the grantor without the beneficiary's permission.
Both types of trusts will contain specific instructions the grantor creates, around the distribution of the assets and how they're to be managed. Which people or organizations receive what benefits and how, is written into the contract and expected to be carried out by the trustee. Yet, with an irrevocable trust, these orders and instructions are unchangeable.
Benefits of an Irrevocable Trust:
The main reason people benefit from setting up an irrevocable trust, has to do with tax liability. The grantor no longer has to include the assets in the irrevocable trust in their estate's overall taxable assets. This makes the assets given over to the irrevocable trust tax exempt, as they're no longer included in the gross estate when filing taxes.
Variables to Consider:
Choosing the right financial advisor and trustee to set up, manage, and execute your irrevocable trust and other estate planning investments – is vital for the best results. There are variables around estate planning, including taxation considerations and changing regulations, which can either diminish or grow your investments and estate.
Hiring experienced and knowledgeable CPAs like Chandler & Knowles, will help you decide which direction is right for your situation. The main objective is to guard your estate against probate and high taxation, while expertly managing your trusts and investments for maximum growth. Choosing a financial service you trust, is vital for the long-term commitment needed in successful estate planning.
Chandler & Knowles CPAs, PLLC was founded in 1996, and is a full-service certified public accounting firm, with expertise and experience in estate planning and irrevocable trusts. We understand how important estate planning is, and can confidently offer our services to assist you in this vital aspect of your financial planning. Your welcome to visit us at one of our two office locations in Flower Mound or Addison, TX, or contact us today to learn more.