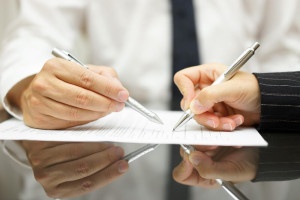 Business succession planning: It may be one of the most overlooked aspects of a business. When you have business partners, or are part of a family-run business not having a good succession plan can be a problem. Just imagine spending years building your business, developing a great customer base and then having one of the key owners of your company become disabled, go through a contentious divorce or lose their life in an accident.
What happens to your business then? You can answer these questions easily if you have a buy-sell agreement in place. Lack of a buy-sell agreement can result in lost credibility, loss of customers and all the hard work it took to build a business being wasted. It's also important to remember this: Your arrangement with business partners is a legal relationship and as such, you need legal documents like buy-sell agreements to protect everyone involved.
What is a Buy-Sell Agreement?
Simply put a buy-sell agreement is a legal document that covers contingency plans on what happens to a business if one owner is divorced (and forced to liquidate their portion), becomes disabled or dies. This document is designed to ensure any partners shares can be bought by the other partners in the business. This protects everyone; the partner who is unable to continue in their role and the other partners. A buy-sell agreement allows the major contributors to the business ensure their hard work will continue long after they are able to be involved.
Why is a Buy-Sell Agreement Necessary?
Simply put, one has to plan for every possibility. Let's take a look at the possible scenarios what could disrupt a business:
One Partner Divorces – as part of a divorce settlement, one of the aspects of property division could include your business. In effect, this could result in a partner being forced to either sell their portion of the business or give up a portion to their spouse. Having a buy-sell agreement in place sets up a scenario where other partners can buy out the portion of the business that is involved in a divorce settlement.
One Partner Becomes Disabled – if a partner becomes disabled, someone is their family may have control over their finances. This can happen in one of two ways; a pre-existing power of attorney or a court appointed power of attorney. In either case, someone who has no knowledge of your business could be making decisions on the partner's behalf. A buy-sell agreement can address this contingency.
Death of a Partner – losing a partner to death is devastating because you have established a working relationship. However, you could be facing problems with your business whether the partner died with or without a will. In many cases, the ownership portion of the business will transfer to a spouse or children of the partner meaning your business is now partially controlled by a stranger. A buy-sell agreement can provide for this type of contingency by ensuring the family is bought out and the business continues to be controlled by those who have a vested interest and knowledge about the business.
Succession planning is important for every business. Too often, in the excitement of starting a business, partners often overlook the fact that they will not live forever nor will they likely be able to actively participate forever. Chandler & Knowles CPA understands how important buy-sell agreements can be to the overall success of your business. We know that succession planning is an important part of your business and we can help you design an effective plan based on your overall goals and your corporate structure. Contact Chandler & Knowles, CPAs for help ensuring your business transitions smoothly in the event of life-changing events.