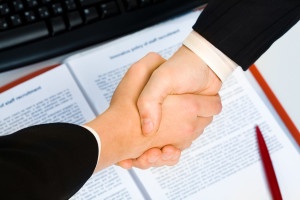 We know that you and your partners did not start your business in order to consider the possibility of future business or personal misfortunes that could result in one of you exiting the firm. Yet whether your business is configured as an S Corp, LLC, or simple partnership, life may intervene and rearrange your plans. Your best hedge against a range of unfortunate possible developments comes in the form of a buy-sell agreement.
Let's look at a few ways in which life can trip up the best laid plans without the protections that come with a buy-sell agreement, and then we will offer a description of how the agreement can help.
We're busy entrepreneurs. Our focus is getting our new business up and running.
Entrepreneurs work hard to start up and grow their new business. All the hard work, joint energy, and enthusiasm the partners share should be rewarded with a solid operating or partnership agreement that includes a just-in-case buy-sell plan that protects the partners and the new enterprise over time.
My partner(s) and I are on the same page. We trust each other.
Yes, for now. But partnerships are like marriages: some last forever and some do not. One partner eventually may want a "divorce" from the company at some point—or may go through an actual divorce and need to divest his or her company shares. How would you feel about a partnership with the spouse, which may happen if a judge awards your partner's shares to the spouse upon dissolution of the marriage?
We will just talk it through when the time comes.
That works—barring an unforeseen disagreement, dire illness, accidental death, or some other life intervention that would preclude your ability to discuss a transfer of partnership shares amicably, or at all.
Putting off developing a buy-sell agreement creates risk for you, your partner(s), and the enterprise itself.
Risks that come with delay
Whether you are in the throes of start-up mode or you have been running a successful partnership for years, it never seems to be a good time to take a step back to confront and plan for potential future misfortunes. Savvy partners understand, however, that overcoming their hesitations and installing a buy-sell agreement is the only way to reduce the risks associated with the future need for one partner to exit the company.
If in the future your partner must separate from the company as a result of divorce, disability, disagreement, or death and no buy-sell plan is in place, you could be faced with a new partner whose ideas, procedures, expectations, and interest in the company are at odds with your own.
Without a buy-sell agreement, your partner may choose to sell off shares to the highest bidder, leave shares to an heir, or lose them in a divorce or even to a gambling debt.
In the event of any of those scenarios, what is the risk to you? What about the risk to your family? In all likelihood, the company itself would be at risk as well.
How a buy-sell plan protects partners and the enterprise
A buy-sell agreement, which can be part of the original operating or partnership agreement or added on at a later date, typically offers remaining partners first right of refusal in purchasing partnership shares, and limits what partners can do with respect to selling or gifting shares.
The agreement eliminates assumptions, guesswork, last-minute maneuvering, and quasi-legal strategies that could hurt the remaining partner(s), the exiting partner's family members, or the business itself.
A solid buy-sell agreement developed by the right, experienced CPA firm becomes a bespoke document tailored specifically to the partners' needs and interests.
The best buy-sells include a formula for valuation—which varies according to the partners' relationship—as well as how to fund potential buyouts.
Ancillary to the agreement typically is the partners' purchase of insurance policies that exist in order to enable partner buyouts as spelled out in buy-sell agreements. Key to the success of this plan is a way for those policies to be updated routinely in a way that reflects the growth of the company.
Naturally, the buy-sell plan will work only when drawn up and executed by a CPA firm whose vision is consistent with that of the partners. Looking for a financial partner? Chandler & Knowles wants to take that journey with you. Contact us to learn more.