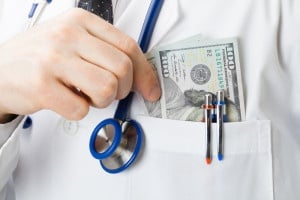 You might be one of those people who always does everything right but still has no savings. The cost of living nowadays is so high that if you want to maintain a decent standard of living, you may have to spend a lot more than you anticipated. This is especially true if you have children. A lot of people will spend less money on themselves but they can't bring themselves to do so when it comes to their children. They just have to buy them those cute little outfits and all the toys their little hearts could desire.
So how do they go about saving money? Is it even possible? The good news is that it's always possible to create a little nest egg. Just make sure you adhere to the following financial planning tips for physicians.
Pay Your Bills:

It doesn't make sense to start saving money until your basic necessities are taken care of. So make sure that the first thing you do out of that monthly paycheck is to send out your rent/mortgage payment and your utilities. You need to keep doing this on time if you want to be on top of your finances. Sending out these bills later will only confuse things for you because you're not going to know how much money you will have left and you won't be able to decide what to put into your savings account.

Write It All Down:

One great way to keep track of your finances is to write down what you're spending money on. Some people carry little journals around with them to keep note of what they're spending on. This also makes you think twice before spending money on something that's not worth the price. Plus, you can look at this journal on a weekly or monthly basis and figure out how much you're spending on various things. This will help you to figure out where you're overspending and where you're underspending.

Take Stock:

Once you have some kind of record of your finances, you can make a chart. How much are you spending on rent/mortgage? How about utilities? Food? Transportation? Entertainment? These categories will vary from person to person. Once you look through your records, you'll see what your categories should be. And it's quite likely that one of them is going to stand out when you take stock. You'll be able to see where you're overspending. And once you know this, you'll know how to cut down as well, which will give you some extra money to put into your savings account.

Make Little Changes:

So maybe you've taken stock and found that you are spending way too much on your rent, given your income. Eventually, it's going to make sense for you to switch apartments. However, finding a new place to live takes time. Plus, you might be locked into your lease for a certain number of months. So there's nothing you can do about this big expense. However, you can still make little changes that will allow you to save money. If you're overspending on your daily lattes, try making your coffee at home. If you keep browsing through the shops in the evenings after work, don't make any impulse purchases. At the end of a month, you might find that you've saved a couple of hundred dollars in your savings account. At the end of a year, this adds up to $2500, which is sizable.

Don't Give Up All Your Luxuries:

Sometimes, you might be spending a little bit on something that brings you a lot of pleasure. In that case, you don't have to give it up completely. You can still have a latte once a week or go to the movies. Sometimes, you can even find equally luxurious alternatives that end up being cheaper in the long run. For example, you could buy an espresso machine at home and make your lattes there. If you try to cut out everything that you love, you're going to rebel against this sooner or later and all your plans to save money will go down the drain.
Contact us for more great financial planning tips for physicians.